Claims about notifications of work hability by the occupational health physician: historical, legal and epidemiological approaches based on a survey of claims in Lorraine (2003-2010).
La contestation de l'avis d'aptitude émis par le médecin du travail : approche historique et juridique, caractéristiques et évolution à partir d'une étude des consestations en Lorraine de 2003 à 2010
Le recours auprès de l'inspecteur du travail lors de difficultés ou désaccords avec l'avis d'aptitude émis par le médecin du travail, possibilité offerte à l'employeur comme au salarié depuis la recodification du Code du travail par l'article L.4624-1, est une procédure qui semble en recrudescence depuis quelques années en Lorraine. Un bilan des contestations des avis des médecins du travail a été dressé en reprenant les lois et la jurisprudence récente entourant la procédure de saisine de l'inspecteur du travail, puis en réalisant une étude en plusieurs étapes : étude rétrospective des dossiers des contestations survenues en Lorraine entre 2003 et 2010, complétée d'un questionnaire adressé aux médecins du travail concernéspar ces recours entre 2008 et 2010. Les contestations en Lorraine sont en nombre croissant mais restent peu fréquentes au regard du nombre d'avis émis chaque année par les médecins du travail de la région. Elles concernent de façon prédominante des avis d'inaptitude émis au cours de visites de reprise et contestés par les salariés. Les pathologies rhumatologiques et psychiatriques sont retrouvées dans 80% des recours. L'intérêt de ce travail réside dans une approche élargie (historique, juridique, devenir des salariés, vécu des médecins) d'une question spécifique de la médecine du travail peu abordée dans la littérature et permet d'endiscerner les enjeux, les motivations et les conséquences.
Fichier principal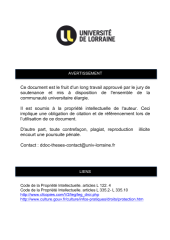 SCDMED_T_2011_LEININGER_AUDREY.pdf (1.75 Mo)
Télécharger le fichier
Origin : Files produced by the author(s)