Anti-inflammatoires non stéroïdiens chez les personnes âgées en médecine de ville: enquête sur le suivi des recommandations en Côte d'Or et en Lorraine
The class of non-steroidal anti-flammatory drugs (NSAID) is among the most prescribed drugs. The incidence of the gastro-intestinal and renal side effects is important particularly in old subjects, where the iatrogenic effects are often serious.This work is a follow-up of a prospective survey carried ou in Cote d'Or from April to June 1999 and in Lorraine from October to November 1999 among city doctors and pharmacists. We chose to analyze the prescriptions from the pharmacists' data base, concerning prescriptions containing at least one NSAID for patients more than 65 years old.
La classe des anti-inflammatoires non stéroïdiens (AINS) représente celle des médicaments les plus souvent prescrits. L'incidence des effets secondaires gastro-intestinaux et rénaux est importante particulièrement chez le sujet âgé, chez qui les effets iatrogènes sont souvent graves. Ce travail fait suite à une enquête prospective menée en Côte d'Or entre Avril et Juin 1999 et en Lorraine entre Octobre et Novembre 1999 auprès de médecins et de pharmaciens de ville. Nous avons choisi d'analyser les prescriptions issues de la base de données pharmaciens , concernant les ordonnances contenant la prescription d'au moins un AINS et concernant des patients âgés de 65 ans ou plus. Nous avons extrait 1503 ordonnances provenant de 72 pharmacies en Côtre d'Or (36% de participation), 2828 ordonnances provenant de 130 pharmacies réparties en Lorraine ( 17% de participation). 80% des patients inclus dans l'étude avaient moins de 65%. Vingt-trois pour-cent des ordonnances comprenaient au moins un AINS chez les sujets de plus de 65 ans. Les pratiques de prescriptions des AINS chez les personnes âgées sont en décalage avec les référentiels de l'ANDEM 1995 et 1996 et les Recommandations Médicales Opposables de 1998. La durée de traitement est jugée excessive dans 35,2% des cas. D'autre part, 46% des prescriptions ne respectent pas les co-prescriptions formellement contre-indiquées. Les doses d'AINS sont rarement réduites (demi-dose utilisée chez le sujet âgé de plus de 70 ans dans 39% des cas). Les AINS à demi-vie longue sont largement utilisées. Les AINS de la classe des "oxicans" correspondent à 30% des prescriptions, alors que les "propioniques" ne représentent que 37% des prescriptions. La proportion de prescriptions associant systématiquement un inhibiteur de la pompe à protons ne représente que 17% des prescriptions. Les protecteurs gastriques ne sont globalement associés que dans 24% des cas. Ce travail suggère que le MG respecte peu les recommandations peut-être en raison d'une "pression" de la part des patients, ou d'une mauvaise connaissance des effets délétères des AINS chez les personnes âgées. Une meilleure information des effets délétères chez les patients de plus de 65 ans, pourrait permettre d'éviter des accidents iatrogènes à l'origine de nombreuses complications et hospitalisations chez les personnes âgées.
Fichier principal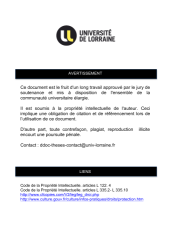 SCDMED_T_2005_BLAKA_YAVO_MARIAM.pdf (6.7 Mo)
Télécharger le fichier
Origin : Files produced by the author(s)