Inter-rater reliability of a complex measuring instrument used in premorbid and prodromal phases of schizophrenia. A retrospectiv study of 50 patients.
Fidélité inter-juges d'un instrument de mesure des symptomes prémorbides et prodromiques de la schizophrénie. A propos d'une étude rétrospective réalisée à Nancy sur 50 dossiers
Les manifestations prémorbides et prodromiques de la schizophrénie connaissent un regain d'intérêt depuis ces 15 dernières années. Une étude réalisée en 2008 au Centre Psychothérapeutique de Nancy (CPN) a investigué, à l'aide d'une grille de lecture, la présence de manifestations précoces de la maladie dans une population de 50 patients schizophrènes adultes. Formalisée ensuite en grille de lecture complexe, notre travail a consisté à réutiliser cet instrument sur les mêmes 50 dossiers par un nouveau cotateur afin d'étudier la reproductibilité des données en mesurant la fidélité inter-juges pour les 48 items recueillis. La première partie de ce travail rappelle le cadre théorique de la recherche en particulier en psychiatrie ainsi que les méthodes de construction et validation d'une échelle. En second lieu, nous avons examiné la fidélité inter-juges du relevé de symptômes par le calcul et l'interprétation du coefficient Kappa de Cohen. Enfin, ces données ont abouti à envisager des modifications de l'instrument de mesure complexe utilisé dans cette étude de recherche.
Fichier principal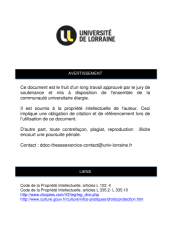 BUMED_T_2012_ARRONDO_FELIX.pdf (1.8 Mo)
Télécharger le fichier
Origin : Files produced by the author(s)