Study about the practice ofnoninvasive ventilation at the emergency room of Nancy.
Etude de la pratique de la ventilation non invasive au service d'accueil des urgences de Nancy
Du fait d'un nombre important de prescriptions de VNI au SAU de Nancy, l'auteur a voulu réaliser une étude de pratique .sur le sujet en s'appuyant sur la Conférence de consensus de 2006 et sur le programme d'EPP correspondant. L'étude s'est déroulée sur 7 mois et 49 patients étaient indus. Les. données étaient recueillies prospectivement à partir de deux questionnaires et rétrospectivement à partir des dossiers médicaux. Il apparaissait que la VNI était appliquée pour les bonnes indications, en respectant les recommandations cliniques pour son initiation, avec les bons modes ventilatoires et les bons réglages. Mais il en ressortait que les traitements associés n'étaient pas assez souvent appliqués. Enfin, les médecins ressentaient une faible difficulté face à la VNI ruais exprimaient un besoin en formations régulières. Cependant, l'exploitation de ces résultats a permis de :mettre à jour certains dysfonctionnements : le SAU dispose bien des moyens nécessaires à la mise en oeuvre de la VNI mais il n'existe pas de« protocole VNI » ni de formations pour le personnel. De plus, les dossiers ne comportaient pas assez souvent la ou les pathologie(s) suspectée(s) initialement, la discussion du rapport bénéfice risque pour les patients chez qui une pneumopathie était suspectée, la prescription de la VNI, ses réglages et sasurveillance. Nous proposions donc d'améliorer la pratique de la VNI en organisant des formations, en élaborant un protocole de mise en oeuvre de la VNI ainsi qu'une feuille de surveillance paramédicale. Une équipe « référente VNI» au sein des urgences pourrait également être créée en collaboration avec les réanimateurs et les pneumologues.
Fichier principal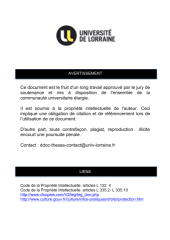 SCDMED_T_2010_COLLIN_BENJAMIN.pdf (8.6 Mo)
Télécharger le fichier
Origin : Files produced by the author(s)