Care of the cardiogenic shock in acute myocardial infarction. After study from 50 patients.
Prise en charge du choc cardiogénique à la phase aiguëde l'infarctus du myocarde : étude rétrospective, portant sur 50 cas.
Après un rapide rappel sur la définition du choc cardiogénique à laphase aiguë de l'infarctus du myocarde et sur sa physiopathologie, nousavons évoqué les moyens thérapeutiques à disposition en veillant à exposerles résultats des dernières études à ce sujet, avec en particulier lesrésultats de l'étude et du registre SHOCK.Dans une deuxième partie, nous avons étudié la prise en charge de 50cas consécutifs de choc cardiogénique à la phase aiguë de l'infarctus dumyocarde hospitalisés au service de Réanimation Médicale de l'hôpitalcentral de Nancy entre le 1 janvier 1998 et le 31 décembre 2000. Il s'agitd'une étude descriptive, rétrospective. Après une description de lapopulation de l'étude, nous avons comparé les caractéristiques et la prise encharge des patients décédés avant la fin de l'hospitalisation à celles despatients survivants d'abord par une analyse univariée puis par des analysesmultivariées à type de régression linéaire multiple, puis régressionlogistique puis par une analyse en composante principale normée. Le devenirde ces patients a également été étudié.Il apparaît que les facteurs de risque de développer un choccardiogénique à la phase aiguë de l'infarctus du myocarde sont différentsselon le sexe, que la majorité des patients étaient polyvasculaires, que larevascularisation par angioplastie a été un succès dans 86% des cas et queles patients survivant à leur choc récupèrent une qualité de vie tout à faitsatisfaisante. Les patients qui décèdent de leur choc cardiogénique sont lespatients les plus âgés, présentant une altération très sévère de leurfonction ventriculaire gauche, qui ont des tares associées et dont les scoresde gravités sont les plus élevés à l'entrée en réanimation.
Fichier principal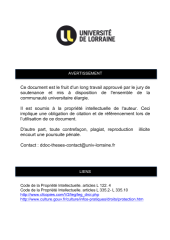 SCDMED_T_2001_MEJEAN_CLAIRE.pdf (4 Mo)
Télécharger le fichier
Origin : Files produced by the author(s)