Clinical audit concerning the quality of management in patients with classic form of congenital adrenal hyperplasia.
Evaluation des pratiques professionnelles concernant la qualité de prise en charge des patients présentant une forme classique d'hyperplasie congénitale des surrénales : Réalisation d'un audit clinique.
Objective. High Authority for Health; "HAS" edited in April 2011 a national program of care and diagnostic; ?PNDS? concerning congenital adrenal hyperplasia (CAH) due to 21-hydroxylase deficiency in agreement with the international recommendation 2002 and 2010. To reduce long-term complications and improve the quality of life to our patients, we had tested our professional practices.Patients. All patients aged >18 years with classic CAH of the adult endocrine units in the Nancy's University Hospital Center.Methods. We have made a clinical audit. We checked all medical records to see whether the recommendation were applied or not between the last consultation before (Tour 1; T1) and after (Tour 2; T2) the introduction of the national guidelines.Results. 27 medicals records with classic CAH were analyzed. The collection of clinical data must be more systematic because if the weight appeared in 89 % of cases, body mass index missed (26 % only in T1), the measure of the blood pressure remained insufficient (74 % in T2). Concerning the therapeutic balance, 17-hydroxyprogestérone, testosterone, renin were correctly prescribed (> 80 %), Delta4-androstènedione in improvement (from 67 % to 100 %) some in defect (stable with 68 % sodium and potassium). The evaluation of the fertility considerably progressed on the other hand the markers of bone metabolism were still often too much lacking.Conclusions. Change in compliance since national guidelines is a slow process.
Objectif. La Haute Autorité de Santé a édité en avril 2011 un Protocole National de Diagnostic et de Soin concernant la prise en charge des patients atteints d'hyperplasie congénitale des surrénales (HCS) par déficit en 21-hydroxylase en s'appuyant sur les recommandations internationales de 2002 et 2010. Afin de limiter les complications au long cours et d'améliorer la qualité de vie de nos patients, nous souhaitons évaluer nos pratiques professionnelles. Patients. Patients âgés de plus de 18 ans présentant une forme classique d'HCS et suivis au sein du service d'endocrinologie adulte du Centre Hospitalier et Universitaire de Nancy.Méthode. Audit clinique consistant à analyser tous les dossiers médicaux et comparer ce qui était fait avant (Tour 1 ; T1) et depuis (Tour 2 ; T2) la parution des dernières recommandations nationales. Résultats. 27 dossiers médicaux de forme classique d'HCS ont été analysés. Le recueil des données cliniques doit être plus systématique car si le poids figurait dans 89% des dossiers, le calcul de l'indice de masse corporelle manquait (26% seulement au T1), la mesure de la tension artérielle restait insuffisante (74% au T2). Concernant l'équilibre thérapeutique, la 17-hydroxyprogestérone, la testostérone, la rénine étaient correctement prescrites (>80%), d'autres en amélioration (de 67% à 100% Delta4-androstènedione) certains à défaut (stable à 68% natrémie et kaliémie). L'évaluation de la fertilité a considérablement progressée par contre les marqueurs du remodelage osseux font encore trop souvent défaut. Conclusion. L'amélioration des pratiques professionnelles après la parution d'un référentiel national n'est ni immédiate ni complète.
Fichier principal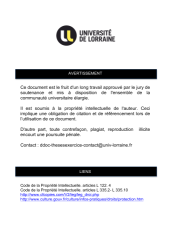 BUMED_T_2012_JANIN_CECILE.pdf (1.68 Mo)
Télécharger le fichier
Origin : Files produced by the author(s)