Intensity-modulated radiation therapy for anal squamous cell carcinoma patients in the ?Centre Alexis Vautrin?: Retrospective analysis of locoregional failures.
Étude rétrospective des rechutes locorégionales des patients atteints d'un carcinome épidermoïde de l'anus traités par Radiothérapie Conformationnelle par Modulation d'Intensité au Centre Alexis Vautrin
Introduction : La radiothérapie conformationnelle par modulation d'intensité (RCMI) est de plus en plus utilisée dans le traitement par radio-chimiothérapie du cancer anal en raison d'une diminution des toxicités. Le contrôle locorégional reste une priorité. La prévention des rechutes locorégionales requiert une attention particulière dans le choix des volumes cibles de traitement. La meilleure façon de définir ces volumes est d'étudier les récidives.Matériel et méthode : Trente six patients atteints d'un carcinome épidermoïde anal ont été traités par RCMI au Centre Alexis Vautrin d'octobre 2009 à novembre 2011. Nous avons dressé le bilan de notre expérience concernant la réponse au traitement, les toxicités et la couverture dosimétrique. Nous avons surtout analysé les rechutes en étudiant leur localisation sur le plan anatomique par rapport aux volumes délinéés, aux isodoses planifiées et aux doses théoriques reçues à leur niveau.Résultats : Le suivi médian est de 18,5 mois. A 24 mois, la survie globale, la survie sans maladie, la survie sans colostomie et le contrôle locorégional sont respectivement de 79,9%, 71,7%, 81% et 75,1%. Les toxicités aiguës cutanées de grade 3-4 sont de 19,4% et celles hématologiques de 13,9%. Nous décrivons 8 rechutes dont 3 locales, 2 régionales, 2 locorégionales et à distance, et 1 à distance. Les récidives régionales sont inguinales, iliaque primitive et sacrée. Nous observons qu'elles sont souvent hors champ ou en limite du fait de la délinéation : des limites supérieures du CTV trop basses et une marge autour des vaisseaux insuffisante. Les récidives locales sont dans les champs et ont déjà reçu une doseconséquente.Conclusion : Bien que des atlas de délinéation aient été définis par des experts, l'étude des rechutes nous renseigne précisément sur les volumes cibles. Cette précision est fondamentale pour la RCMI, technique où les gradients de dose sont importants.
Fichier principal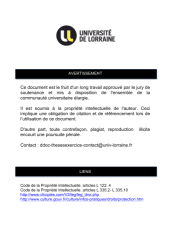 BUMED_T_2012_SERRE_ANNE_AGATHE.pdf (4.24 Mo)
Télécharger le fichier
Origin : Files produced by the author(s)