Drug management of anxiety at the end of life : impact of a palliative care mobile team.
Prise en charge médicamenteuse de l'anxiété en fin de vie : influence d'une équipe mobile de soins palliatifs
L'anxiété est un symptôme fréquent et généralement mal évalué à l'approche de la fin de vie. Des échelles d'évaluation permettent de l'apprécier avant de proposer un traitement adapté, qui peut être non médicamenteux ou médicamenteux. Ces derniers sont représentés par les anxiolytiques benzodiazépiniques ou non, les neuroleptiques et les antidépresseurs. L'objectif de ce travail est d'évaluer l'influence d'une équipe mobile de soins palliatifs sur les prescriptions anxiolytiques médicamenteuses par l'analyse rétrospective de 101 dossiers de patients cancéreux décédés en 2010 et 2011 dans le service de pneumologiephtisiologie du centre hospitalier de Verdun. Nous mettons en évidence la nécessité de formation, d'expérience, et de concertation pluridisciplinaire dans ces situations de fin de vie qui requièrent une approche spécialisée pour de meilleures prescriptions.
Fichier principal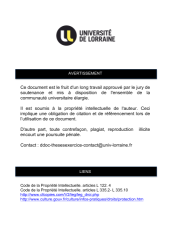 BUMED_T_2012_SCHULER_ARNAUD.pdf (671.49 Ko)
Télécharger le fichier
Origin : Files produced by the author(s)