Factors associated with ketoacidosis at the onset of type 1 diabete mellitus in children : a descriptive study of 125 children in Lorraine.
Analyse des facteurs prédictifs d'une acidocétose inaugurale dans la maladie diabétique de type 1 de l'enfant : étude d'une série lorraine de 125 enfants
L'acidocétose est encore trop souvent le mode de révélation du diabète de type 1 de l'enfant. Elle est considérée comme un facteur de gravité à part entière dans la maladie diabétique, avec des complications neurologiques péjoratives. L'enjeu repose donc sur un diagnostic précoce du diabète afin de surseoir à l'évolution vers l'acidocétose.L'objectif principal de ce travail était de chercher d'éventuels éléments prédictifs médicaux, sociologiques et économiques dans la survenue de l'acidocétose inaugurale, afin de cibler les situations à risque et d'orienter les campagnes de prévention.Cette étude rétrospective et prospective porte sur 125 enfants diagnostiqués diabétiques de type 1 au CHU de Nancy ou au CHG de Bar-le-Duc entre le 01/01/2005 et le 31/03/2011. Le taux d'acidocétose inaugurale est de 41,6%. Nous avons confirmé l'impact de l'errance diagnostique dans la survenue des acidocétoses avec un nombre de consultations plus important (2,1±1,4 jours, p*<0,05) et un délai de prise en charge plus long lié aux erreurs diagnostiques (50%, p*=0,0005) et à la réalisation d'examens complémentaires inutiles. Lesfacteurs socio-économiques limitant l'accès aux soins ou à l'information médicale (faible niveau d'instruction, barrière linguistique, faible densité médicale) favorisent cette situation de décompensation métabolique. La littérature décrit les enfants de moins de cinq ans comme à risque, mais nous n'avons pas pu le montrer.Il est donc nécessaire que les médecins s'investissent dans ces campagnes de prévention tout d'abord en se plaçant comme cible et se rendant disponible à la formation, puis comme diffuseur de l'information aux familles.
Fichier principal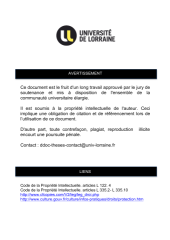 SCDMED_T_2011_GERARD_SOPHIE.pdf (5.83 Mo)
Télécharger le fichier
Origin : Files produced by the author(s)