Prisoners discharged for medical reason : myth or reality ?
La libération des personnes incarcérées pour raison de santé : mythe ou réalité ?
ln France, a conviction is executed without regard to the prisoner' sage. So, old prisoners cannot daim their release because of their age. However, health can be taken into account and an ailing prisoner can benefit from an adjustement of his penalty whether his physical state do not suit his detention or whether his status is critical. Thanks to the description of French case law and examples taken from sorne patients' medical files from the Inter-Regional Secured Hospital Complex (Unité Hospitalière Sécurisée Inter-Régional) of the Nancy Brabois Hospital, in Meurthe-et-Moselle county, we will discuss the legal and ethical problems that a discharge for medical reason provoke and the future prospects of such, a legislation.
En France, il n'existe pas de limite d'âge pour l'exécution d'une condamnation. Les détenus âgés ne peuvent donc pas s'en prévaloir pour obtenir une libération. En revanche, l'état de santé peut être pris en compte et un détenu malade peut bénéficier d'un aménagement de peine si son état physique est incompatible avec sa détention ou si son pronostic vital est engagé. A travers la description de la jurisprudence française et appuyé par des dossiers médicaux de patients issus de l'Unité Hospitalière Sécurisée Interrégionale de l'hôpital de Nancy Brabois en Meurthe et Moselle, nous soulèverons les problèmes juridiques et éthiques qu'engendrent une libération pour raison médicale et les perspectives d'avenir d'une telle législation.
Fichier principal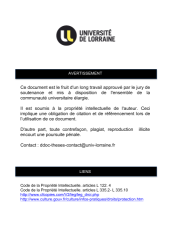 SCDMED_T_2007_GRAFIADIS_PATRICK.pdf (3.38 Mo)
Télécharger le fichier
Origin : Files produced by the author(s)