Will the bond between the two ceramics layers in all-ceramic restaurations keep its promises ?
La liaison céramo-céramique tiendra-t-elle ses promesses ?
La liaison entre deux matériaux céramiques dentaires apparaît être le point faible desrestaurations céramo-céramique. Dans ce sens, de nombreuses études ont vu le jour afin d'augmenter la force de liaison présente à l'interface de ces deux céramiques.Cette thèse bibliographique décrit, dans un premier temps, la composition et la structure des différentes céramiques afin de mieux en comprendre leurs propriétés et leurs indications.L'origine et la propagation de fissures seront étudiées afin de définir le mode de fracture capable de provoquer une décohésion interfaciale de la céramique cosmétique, ainsi que les facteurs modifiant ce mode de fracture.L'interface céramo-céramique sera décrite dans le but d'objectiver les caractéristiques inhérentes aux matériaux (granulométrie, propriétés thermiques, propriétés exceptionnelles,...) et les techniques de préparation de la céramique (traitement de surface, technique de cuisson,...) bénéfiques pour la force de liaison à l'interface.Enfin, des alternatives à cette structure bicouche seront proposées.
Fichier principal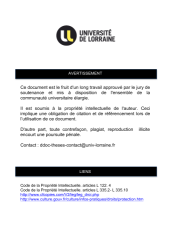 SCDPHA_TD_2011_CONREAUX_CELINE.pdf (8.01 Mo)
Télécharger le fichier
Origin : Files produced by the author(s)