Oral rehabilitation and dental implants after head and neck cancer
Réhabilitation orale et implants dentaires après un cancer ORL.
Les cancers des VADS augmentent malheureusement chaque année en France. Les protocoles de prise en charge associent le plus souvent actuellement, chirurgie d'exérèse et radiothérapie à dose curative, pouvant entrainer d'importantes pertes de substance et des séquelles au niveau de la cavité buccale.De ce fait, la réhabilitation orale de ces patients, esthétiques et fonctionnelle, indispensable pour leur vie pendant et surtout après les traitements, peut s'avérer difficile voire très compromise par les solutions prothétiques conventionnelles. Leur qualité de vie en est alors fortement altérée avec un retentissement psychologique et social important.Afin de créer une restauration prothétique amovible ou fixe, stable et fonctionnelle, l'apport de l'implantologie orale peut s'avérer être une aide précieuse en particulier à visée de stabilisation prothétique. Les spécificités implantaires et prothétiques chez le patient traité pour un cancer de la sphère ORL et en particulier en terrain irradié sont exposées.Par une bonne communication entre les différentes équipes médicales et par une utilisation prudente et rigoureuse, l'implantologie en cancérologie ORL devient alors un atout fondamental à la reconstruction orale de ces patients, les aidant sur le chemin de la guérison.
Fichier principal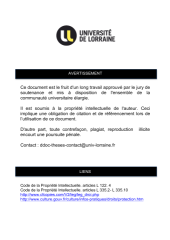 SCDPHA_TD_2011_KILETZKY_MARIE.pdf (10.53 Mo)
Télécharger le fichier
Origin : Files produced by the author(s)