L'acide hyaluronique : Production microbiologique et applications
Hyaluronic acid is a natural polymer, found in many animal and microbial species, which has remarkable physical and chemical properties. For nearly thirty years, it is becoming increasingly popular in the therapeutic and cosmetics areas. To meet the ever increasing demand in this biopolymer, obtaining pathways have evolved with scientific knowledges. The extraction from animal tissue has been replaced with microbial production. The strains used to obtain this molecule are bacteria of the genus Streptococcus with a capsule, especially the species Streptococcus equi subsp. zooepidemicus.Optimization of culture medium and culture conditions, functions of strain and selected mode, allows to obtain the most important concentration of high molecular weight hyaluronic acid. In order to ensure quality control of the product, hyaluronic acid must meet the standards of the European Pharmacopoeia. These multiple controls as well as tolerance and absorbable property of hyaluronic acid make it a product with limited side effects that occupies a prominent place in the search for the ideal filler.
L'acide hyaluronique est un polymère naturel retrouvé dans de nombreuses espaces animales et microbiennes et doté de priorités physico-chimiques remarquables.Depuis près de trente ans, il connait un succès grandissant dans les domaines thérapeutiques et cosmétiques.Pour pouvoir répondre à la demande toujours plus importante en ce biopolymère, les voies d'obtention ont évolué avec les connaissances scientifiques. L'extraction à partir de tissus animaux a cédé sa place à la production par voie microbienne.Les souches les plus utilisées pour l'obtention de cette molécule d'intérêt sont des bactéries du genre Streptococcus possédant une capsule, et tout particulièrement l'espace Streptococcus equi subsp. zooepidemicus.L'optimisation du milieu de culture et des conditions de réalisation en fonction de la souche mise en oeuvre et du mode choisi permet d'obtenir la concentration en acide hyaluronique de haute masse moléculaire la plus importante possible.Afin de s'assurer du controle de la qualité du produit, l'acide hyaluronique doit satisfaire aux normes de la Pharmacopée Européenne. Ces multiples controles ainsi que la tolérance et le caractère résorbable de l'acide hyaluronique, en font un produit à effets secondaires limités qui occupe une place de choix dans la recherche de l'implant idéal.
Fichier principal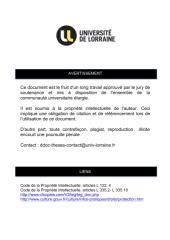 SCDPHA_T_2011_POINSOT_MATHIEU.pdf (2.14 Mo)
Télécharger le fichier
Origin : Files produced by the author(s)