Les écoles de la 2ème chance, entre gouvernance et influences : dans quelle mesure la configuration territoriale influence t-elle la gouvernance des E2C en région Grand Est ?
The 2nd chance school is a training and coaching programmme that aims at social and professionnel insertion of young adults who left school without a diploma or qualification. The 2nd chance school network manages the implementation of the programme through a labeling process which contributes to a « certain homogenisation » of the schools. The project of setting up schools depends on the will of collective territorial bodies. They thus form part of a specified territorial level. Their juridictions, relatively varied, can exist at an employement area level, possibly at a departement or a region. The purpose of this master thesis is to explore the different forms of governance of 2nd chance school, according to their territorial configurations and organisations. The question is to understand how the school's territorial configuration may influence the management systems. This analysis, constructed from interviews realised with the actors involved in the management of the 2nd chance schools network and Grand Est region, reveales in particular the prédominance of the political territories over the geographical territories of the schools.
L'école de la 2e Chance est un dispositif de formation et d'accompagnement visant l'insertion sociale et professionnelle de jeunes adultes, sortis du système éducatif sans diplôme, ni qualification. Le réseau national des E2C encadre la mise en oeuvre du dispositif à travers un processus de labellisation qui participe à « l'homogénéisation relative » des écoles. Le projet de création des écoles relève de la volonté des collectivités territoriales. Elles s'inscrivent par conséquent dans un échelon territorial déterminé. Leur territoire de compétences, qui présente une certaine diversité, peut s'inscrire à l'échelle d'un bassin d'emploi, éventuellement d'un département ou encore d'une région. L'objet de ce mémoire vise à explorer les formes de gouvernance des E2C selon leur configuration et leur organisation territoriale. Il s'agit ainsi de chercher à comprendre en quoi la configuration territoriale des écoles influence les modes de pilotage. Construite à partir d'entretiens réalisés avec les professionnels impliqués dans le pilotage des E2C de la région Grand Est et du réseau national, l'analyse donne notamment à voir la prédominance des territoires politiques sur les territoires géographiques des écoles.
Fichier principal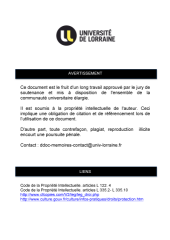 BUS_M_2016_GALL_JEREMY.pdf (849.76 Ko)
Télécharger le fichier
Origin : Files produced by the author(s)