Sensitisation to occupational allergens and early airways inflammation: follow up study among bakery, pastry and hairdressers apprentices.
Sensibilisation aux allergènes professionnels et marqueurs d'inflammation bronchique : étude dans une cohorte d'apprentis boulangers/pâtissiers et de coiffeurs
L'asthme professionnel (AP) est la pathologie professionnelle respiratoire la plus fréquente dans les pays industrialisés mais sa prévalence reste sous estimée. Plus de 300 agents étiologiques ont été recensés : ce sont les agents de haut poids moléculaire (HPM) (farine, enzymes?) et de bas poids moléculaires (persulfates, isocyanates?). L'inflammation des voies aériennes constitue l'altération princeps de cette pathologie.Récemment des méthodes non invasives ont été proposées pour explorer cette composante inflammatoire, telle que l'analyse du liquide du lavage nasal ou la mesure du monoxyde d'azote exhalé. L'étude MIBAP (Marqueurs de l'Inflammation Bronchique dans l'Asthme Professionnel) s'inscrit dans cette voie, en réalisant le suivi d'apprentis boulangers/pâtissiers et coiffeurs du début à la fin de leur apprentissage, dans le but de proposer une batterie de tests faciles à réaliser dans un cadre épidémiologique et professionnel, et permettant d'évaluer précocement l'inflammation bronchique susceptible d'évoluer vers un asthme. Ainsi ce travail, vise à discuter la pertinence de l'exploration de la sensibilisation aux allergènes professionnels dans le suivi d'apprentis exposés à des agents connus comme pourvoyeur d'AP. L'atopie augmente le risque de se sensibiliser à un allergène professionnel de HPM. L'existence d'une sensibilisation à un allergène professionnel à V1, n'est pas prédictive de la survenue d'une HRBNS à une visite ultérieure. Il n'existe pas de lien entre la sensibilisation à un allergène professionnel et un taux de NO exhalé supérieur à 25 ppb à la fin de l'apprentissage. Il existe un lien entre ce taux de NO exhalé (FENO #gt# 25 ppb) et l'éosinophilie au début de l'apprentissage ainsi que le statut atopique. La mesure du monoxyde d'azote, associée aux données du lavage nasal pourraient donc constituer un outil pertinent de dépistage de l'inflammation bronchique, chez des apprentis nouvellement exposés à des agents sensibilisants respiratoires.
Fichier principal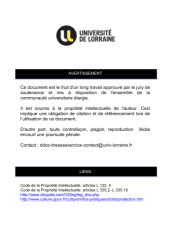 BUMED_T_2012_FRANCOIS_FANNY.pdf (1.48 Mo)
Télécharger le fichier
Origin : Files produced by the author(s)