Système temps réel de suivi de mouvement respiratoire en IRM
The main field of the laboratory IADI in which the training was carried out, is imaging of moving organs. One of the most difficult movements to control, during image acquisition, is the respiratory motion because it requires breath hold method which are not always feasible. The purpose of this study was to apply an object tracking method for respiratory motion detection in MRI environment. The used method is based on system composed of camera connected to a reconfigurable FPGA plateform whose main purpose is extracted of respiratory motion from acquired video frames. The main objectives of this study were to choose a motion tracking algorithme adapted for respiratory motion detection in MR environment validate it in a behavioral evironment such as Matlab and to finaly implement it on a real-time reconfigurable FPGA plateform.
L'unité INSERM, IADI dans lequel ce stage s'est déroulé, a pour thématique principale l'imagerie des organes en mouvement. Un des mouvements les plus difficiles à contrôler, lors de l'acquisition des images, est le mouvement respiratoire car il nécessite souvent des apnées qui ne sont pas toujours réalisables. Le but de ce stage est d'appliquer une méthode de suivi de mouvements respiratoires à base d'une caméra associée à des structures de calcul puissantes permettant d'extraire, à partir des séquences vidéo acquises, le mouvement respiratoire voulu. Le travail qui a été réalisé pendant ce stage consistait à choisir l'algorithme de suivi de mouvement, le valider au niveau comportemental sous un environnement de simulation de type MATLAB puis l'implanter sous une plateforme reconfigurable de type FPGA.
Fichier principal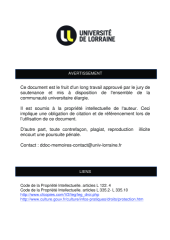 BUS_M_2012_GARCI_MAROUA.pdf (2.13 Mo)
Télécharger le fichier
Origin : Files produced by the author(s)