L'hypnose au sein du bloc opératoire « Pourquoi pas ? »
During my different internships, I experienced a great number of situations where the patients were anxious and were in pain… These pains can be relieved with the help of treatments but they not always administered at the right moment to relieve the patient. In view of the above, I decided to seek for a tool, nurses can use for patient care in optimal conditions during difficult situations. My research is turned towards hypnosis and more particularly interactive hypnosis because it's a technique that everybody can use. This technique has been discovered and has been known for quite a few years in the medical field. My professional objective is to integrate it into the operating theatre, I discovered during my researches in the field of hypnosis, that this can be helpful in this area of care. Unfortunately, after having demonstrated its efficiency, the use of hypnosis remains underdeveloped in the medical area. This is why my question of research is the following one: « Why interactive hypnosis is not practised on a larger scale during the nursing care of a patient in the operating theatre ? ». Here is my hypothesis derived from my different researches, and funded on the fact that nurses have not the right knowledge about hypnosis, and this hinders further developments. My research is based on a qualitative scale. I use both an explanatory method with the help of a survey among nurses at the operating theatre and an assessment of their knowledge in hypnosis. I have also used an exploratory method with semistructured interviews with nurses trained on a hypnosis method. The analysis of the answers given by healthcare professionals allowed reporting that nurses had general knowledge of hypnosis but still have some idea of this technique. This study allowed me to assert that other brakes could also prevent the development of hypnosis at the operating theatre, such as a lack on hypnosis, the fact that isn't a service project and it's not a quote act.
Au cours de mes différents stages, j'ai pu rencontrer des situations où les patients pouvaient être angoissés, algiques,… De nombreux traitements peuvent aider à soulager ces maux, mais ils ne sont pas nécessairement administrés au bon moment pour pouvoir soulager le patient. De ce fait, j'ai décidé de rechercher un outil permettant à l'infirmier d'accompagner le patient dans des conditions optimales lors de ces situations difficiles. Ma recherche s'est alors tournée vers l'hypnose et plus particulièrement l'hypnose conversationnelle qui est une technique d'hypnose accessible à tous. C'est une technique connue depuis de nombreuses années dans le domaine de la santé et en voie de développement. De plus, ayant pour projet professionnel d'intégrer le bloc opératoire, j'ai pu me rendre compte à travers mes recherches que l'hypnose pouvait être un outil très utile dans ce secteur de soin. Malheureusement, même après avoir prouvé son efficacité à travers différentes études l'utilisation de l'hypnose reste encore trop peu développée dans le domaine de la santé. C'est pour cette raison que ma question de recherche est la suivante : « Pour quelles raisons l'hypnose conversationnelle n'est-elle pas plus pratiquée lors de la prise en charge infirmière d'un patient au bloc opératoire ? ». Suite à mes différentes recherches une hypothèse en émane. En effet, j'ai décidé de retenir le fait que les soignants auraient des connaissances erronées sur l'hypnose et freineraient donc son développement. Ma recherche est qualitative. J'ai décidé d'utiliser à la fois une méthode explicative à l'aide de questionnaires distribués aux infirmiers du secteur du bloc opératoire afin de faire un bilan sur leurs connaissances en hypnose. J'ai également utilisé une méthode exploratoire grâce à des entretiens semi-directifs auprès d'infirmiers formés à l'hypnose. L'analyse des réponses données par les professionnels de santé interrogés m'a permis de me rendre compte que les soignants avaient des connaissances générales sur l'hypnose mais qu'ils avaient malgré tout une certaine idée de cette technique qui est erronée. Cette étude m'a permis de mettre en avant que d'autres freins pouvaient également empêcher le développement de l'hypnose au sein du bloc opératoire tel que le manque de communication sur l'hypnose, le fait qu'il ne s'agit pas d'un projet de service et que ce ne soit pas un acte coté.
Fichier principal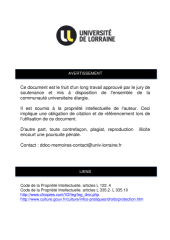 BUMED_MINF_2018_BRUHIN_MARIE.pdf (1.33 Mo)
Télécharger le fichier
Origin : Files produced by the author(s)