Impact des éléments traces métalliques (ETMs) sur la structure génétique des populations de vers de terre
Earthworms are abundant in our soils, they form the largest animal biomass of these. They are considered the main engineers of the soil and are known for the many ecosystem services they provide. But earthworms are very vulnerable to anthropogenic sources of pollutants, including heavy metals discharged in large quantities in agriculture and in industry. In order to study their effect on the genetic structure of earthworm populations , the species of Lumbricus castaneus individuals were sampled on a former. industrial site, with an area polluted by metals and an unpolluted area Five genetic markers specific to this species have been developed, allowing the comparison of different parameters of populations genetics. Analyses have shown very small difference between the two zones, but those achieved by Geneland highlight two distinct subpopulations, one population in the polluted area and another one in the non-polluted area. Nevertheless it would be interesting to conduct further analysis with more than five markers, and identify juveniles of the species in order to get data on the effect of pollution on reproduction.
Les vers de terre sont présents en abondance dans nos sols, ils constituent en effet la plus importante biomasse animale des ces derniers. Ils sont considérés comme les principaux ingénieurs du sol et sont connus pour les nombreux services écosystémiques qu'ils fournissent. Mais les vers de terre sont très exposés aux polluants d'origines anthropiques, dont les métaux lourds, rejetés en grandes quantités dans l'agriculture et dans l'industrie. Afin d'étudier leur effet sur la structure génétique des populations de vers de terre, des individus de l'espèce Lumbricus castaneus ont été échantillonnés sur une ancienne friche industrielle, présentant une zone polluée par les métaux et une zone non polluée. Cinq marqueurs génétiques spécifiques à cette espèce ont été mis au point, permettant la comparaison de différents paramètres de génétique des populations. Les analyses n'ont montrées que de très faibles différences entre les deux zones, mais celles réalisées grâce à Geneland ont permis de mettre en évidence deux sous-populations distinctes, une dans la zone polluée l'autre dans la zone non polluée. Il serait malgré tout intéressant de réaliser de nouvelles analyses avec plus de cinq marqueurs, et d'identifier les individus juvéniles de l'espèce afin d'avoir des données concernant l'effet de la pollution sur la reproduction.
Fichier principal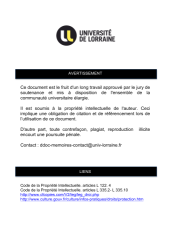 BUS_M_2016_DESCHINS_VALENTIN.pdf (1.33 Mo)
Télécharger le fichier
Origin : Files produced by the author(s)