Surexpression d'un gène (sht1) codant pour une SpermidineHydroxycinnamoylTransférase dans des souches transformées de chevelus racinaires de chicorée : étude biochimique et transcriptomique
Chicory (Cichorium intibus) has the capacity to accumulate in its roots 2 phenolic compounds such as the chlorogenic acid (CQA) and the isochlorogenic acid (di-CQA). 2 HCTs and 3 HQTs, enzymes belonging to the BAHD family, are involved in the CQA biosynthesis pathway. Phylogenetic and biochemical analyses revealed a SpermidineHydroxycinnamoyTransferase (SHT1) also belonging to the BAHD family. In order to validate the putative function of the sht1 gene, this one has been overexpressed in a transgenic hairy root lines of chicory with the Agrobacterium rhizogenes strains, 2659 and 15834. The transcriptomic analyses showed that sht1 has been well overexpressed. But biochemical analyses, didn't have shown tricoumaroylspermidine production, also after Meja and ergosterol elicitation. Moreover, in order to understand the Agrobacterium rhizogenes transformation impact on the CQA and di-CQA production, transcriptomic analyses with qPCR have been made on two genes involved in the jasmonate signalisation pathway, seven genes involved in the hydroxycinnamic acids pathway and two genes supposed involved in the di- CQA synthesis.
La chicorée (Cichorium intybus) a la capacité d'accumuler dans ses racines 2 composés phénoliques, les acides chlorogènique (CQA) et isochlorogénique (di-CQA). La voie de biosynthèse du CQA est bien connue et fait intervenir 2 HCTs et 3 HQTs, enzymes appartenant à la famille des BAHD. Chez la chicorée, des analyses phylogénétiques complétés par des analyses biochimiques in vitro ont permis d'identifier une SpermidineHydroxicinnamoylTransférase (SHT1) faisant partie de la même famille d'enzymes. Dans le but de valider la fonction putative du gène sht1 celui-ci a été surexprimé dans des souches transformées de chevelus racinaires de chicorée en utilisant la souche 2659 et 15834 d'Agrobacterium rhizogenes. Des analyses transcriptomiques ont montré que le gène était bien surexprimé. En revanche les analyses biochimiques, même après élicitation au Meja et à l'ergostérol n'ont pas mis en évidence la production de tricoumaroylspermidine. De plus, afin de comprendre l'impact de la transformation par Agrobacterium rhizogenes sur la production du CQA et du di-CQA, des analyses transcriptionnelles par qPCR ont étaient réalisées sur deux gènes impliqués dans la voie de signalisation de jamonate, sur 7 gènes impliqués dans la voie de biosynthèse du CQA et sur deux lipases candidates à la synthèse de di-CQA.
Fichier principal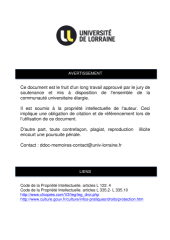 BUS_M_2016_BERNARD_GUILLAUME.pdf (1.17 Mo)
Télécharger le fichier
Origin : Files produced by the author(s)