L'image du corps et DMLA sans démences : apport du Snoezelen
Method: At the beginning, we have realized semi-structures interview to make a situational analysis about different images component body image defined by Dolto (Base, functional, erogenous and dynamic), thanks to discourses analysis resume their different indicators. We followed this four images during eight sessions and for last semi-structures interview in order to find their progress. Results : Only old people presenting AMD since little time have progress concerning basic image, thanks to comfort and individual support in Snoezelen room. The most independent have a correct basic image. For both people, functional body have been many stimulate due to a lot of sensorial stimulations. Those have AMD since little times test their method, by combining rest visual and tactile sense, already acquired by most autonomous. They suffer of cannot see their face and face of other people and have difficulties of social relationship. During sessions, they appreciate moments with escort from using their experience increasingly precise and have fun in exploration of room. Finally, articulation between basic image, functional and erogenous is increasingly common during protocol. Conclusion : Thanks to cocoon and secure effect, sensorial stimulations, enjoyment and displeasure and articulation of this, Snoezelen allow to slowly recuperate body image for elderly people with AMD, across repossession about altered images which compose body image.
Méthode: Un entretien semi-directif inital nous a permis de faire un état des lieux des différentes images constituant l'image du corps défini par Dolto grâce à une analyses du discours reprenant leurs différents indicateurs. Nous avons suivi ces quatre images tout au long des huit séances et lors de l'entretien semi-directif final afin de constater leurs évolutions. Résultats: Les plus autonomes ont une image de base satisfaisante. Seuls les résidents ayant une DMLA depuis peu de temps ont retrouvé une image de base une image de base correcte dans la salle snoezelen, grâce au confort et à l'accompagnement du résident. L'image fonctionnelle des deux sujets a été grandement stimulée, grâce aux diverses stimulations sensorielles. Ceux ayant la DMLA depuis peu de temps testent leur méthode d'analyse, en combinant progressivement le reste visuel et le sens tactile, déjà acquis par les plus autonomes. Les deux résidents souffrent de ne pas voir leur visage et celui des autres personnes et d'avoir une vie sociale compliquée. Lors des séances, ils apprécient les moments avec l'accompagnatrice en partageant leurs souvenirs, de plus en plus précis et prennent du plaisir dans la découverte de la salle. Enfin, l'articulation entre l'image de base, fonctionnelle et érogène se fait de plus en plus fréquemment au cours du programme. Conclusion: Grâce à son effet cocon et sécurisant, ses stimulations sensorielles, le plaisir et déplaisir partagés et l'articulation de tout cet ensemble, le Snoezelen permet à la personne âgée présentant une DMLA, de se réapproprier progressivement son image du corps, à travers la réappropriation des images altérées qui la compose.
Fichier principal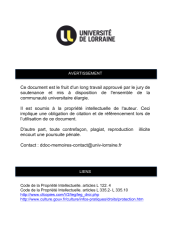 BUS_M_2016_SZACHSZNAJDER_DELPHINE.pdf (724.43 Ko)
Télécharger le fichier
Origin : Files produced by the author(s)