Recherche de nouveaux métabolites secondaires chez Streptomyces ambofaciens par une approche novatrice de génomique comparée
Secondary metabolites (SM) are used since a long time in different domains like human and veterinary medicine (antibiotic, antitumor) or agriculture (anti-fungal). Streptomyces ambofaciens, StrAda team's model strain, produces a large number of secondary metabolites including five antimicrobial molecules. A mutant strain unable to produce the spiramycin, congocidine, and kinamycin antibiotics was mutated independently in each of the other SM biosynthetic gene clusters identified by the sequencing of the S. ambofaciens genome. Despite these mutations, an antibacterial activity remains. That indicates that a new kind of biosynthetic genes cluster which cannot be detected by homology based approaches is responsible of this activity. The biosynthetic genes could be located in a genomic island (GI), the SM biosynthetic genes clusters being often found in GIs. The aim of my internship is to test this hypothesis by two approaches: the GI's deletion by using the CRISPR system, and the GI's heterologous expression, by using the TAR system, in a Streptomyces strain dedicated to SM production.
Les métabolites secondaires (MS) sont utilisés depuis très longtemps dans des différents domaines comme la médecine humaine et vétérinaire (antibiotique, anti tumoral) ou l'agriculture (antifongique). Streptomyces ambofaciens, la bactérie modèle de l'équipe StrAda, produit de nombreux métabolites secondaires dont cinq molécules antimicrobiennes. Une souche mutante incapables de produire les antibiotiques spiramycine, congocidine et kinamycine a été mutée indépendamment dans chacun des autres clusters de gènes de biosynthèse de MS identifiés suite au séquençage du génome de S. ambofaciens. Malgré ces mutations, une activité antibactérienne persiste chez toutes les souches. Ceci indique qu'un nouveau type de cluster de gènes de biosynthèse non détectable par homologie de séquence pourrait être responsable de cette activité. Les gènes de biosynthèse pourraient être localisés dans un ilot génomique (IG), les clusters de biosynthèse de MS étant souvent retrouvés dans ces ilots. Le but de mon stage est de vérifier cette hypothèse par deux approches : la délétion d'IG en utilisant le système CRISPR, et l'expression hétérologue d'IG, via l'utilisation du système TAR, chez une souche de Streptomyces dédiée à la production de MS.
Fichier principal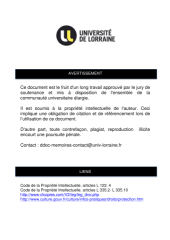 BUS_M_2016_HOUIN_ANTHONY.pdf (3.18 Mo)
Télécharger le fichier
Origin : Files produced by the author(s)