Prendre en compte la Trame verte et bleue dans les systèmes d'exploitation et la traduire dans les pratiques agricoles
The Green and Blue Corridor, mainaction of the Environment Grenelle, aims to stop the biodiversity decline by reducing habitat fragmentation and allowing the movement of species between biodiversity hot-spots. In 2013, Ile-de-France region has validated the Regional Ecological Coherence Scheme setting environmental issues conservations at the regional level. Farmers support by the Agricultural Chamber of Seine-et-Marne in their efforts to engage favorable biodiversity actions has led the agricultural environment pole to make a diagnosis Green and Blue Corridor scale farms. Analysis and mapping of ecological continuity identified semi-natural elements favorable to biodiversity and species moving and emphasize their characters within the fragmented territory. It also helped to highlight the key role of the agricultural management areas for biodiversity. The spatial representation of areas using with high biological issues secures a framework in its local context and contributes to a better farmers and facilities awarenessto achieve Agricultural and Environmental Actions commitments.
La Trame Verte et Bleue, mesure phare du Grenelle de l'environnement, a pour objectif d'enrayer le déclin de la biodiversité en diminuant la fragmentation des habitats et en permettant le déplacement des espèces entre les coeurs de biodiversité. La région Ile-de- France a validé en 2013 son Schéma Régional de Cohérence Ecologique fixant les enjeux de conservation de l'environnement à l'échelle régionale. L'accompagnement des agriculteurs par la Chambre d'agriculture de Seine-et-Marne dans leurs démarches d'engagements en mesures favorables pour la biodiversité a conduit le pôle agronomie environnement à réaliser un diagnostic Trame Verte et Bleue à l'échelle des exploitations agricoles. L'analyse et la cartographie des continuités écologiques ont permis d'identifier les éléments semi-naturels favorables à la biodiversité et aux déplacements des espèces puis de souligner leurs caractères fragmentés au sein du territoire. Elle a également permis de mettre en évidence le rôle clé de la gestion des espaces agricoles pour la biodiversité. L'utilisation de la représentation spatiale des zones à forts enjeux biologiques permet de fixer un cadre de travail dans son contexte local et concoure à une meilleure sensibilisation des agriculteurs et des aménagements à réaliser lors des engagements en mesures agro-environnementales et climatiques.
Fichier principal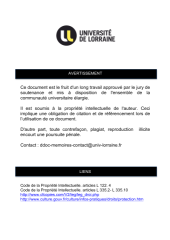 BUS_M_2015_COURBOIS_AYMERIC.pdf (7.66 Mo)
Télécharger le fichier
Origin : Files produced by the author(s)