Suivi ornithologique et étude paysagère d'un site Natura 2000 : la ZPS Bassigny partie Lorraine
The bird is on the decline, whether worldwide or French level. One of these causes is agricultural expansion including through the intensification of agricultural practices. SPA Bassigny partie Lorraine and all other SPAs, which are part of the Natura 2000 network have been created to protect the bird life of these areas. It is therefore necessary to better know the site in order to get a better understanding of the structure of the territory and its role concerning of bird conservation in order to more effectively guide future actions to be apply. The evolution of the SPA, since the writing of DOCOB until the current study, is studied with landscaped index through software FRAGSTATS to characterize the landscape. IPA and transects are carried out to identify the birds present and its relationship with the landscape. An increase in the structural heterogeneity and decreased in the heterogeneity of composition are found, as well as an increase in crop areas. The inventories have identified 81 species and among the most important species on the site, positive relationships are with meadows and fixed elements (hedges, groves, orchards) while negative relationships are related to crops.
L'avifaune est sur le déclin, que ce soit au niveau mondial ou français. L'une de ces causes est l'expansion agricole notamment via l'intensification des pratiques agricoles. La ZPS Bassigny partie Lorraine ainsi que toutes les autres ZPS, qui font partie du réseau Natura 2000, ont ainsi été créée afin de protéger l'avifaune de ces milieux. Il convient donc de mieux connaître le site dans le but d'obtenir une meilleure compréhension de la structure du territoire et de son rôle vis-à-vis de la conservation de l'avifaune afin d'orienter plus efficacement les actions futures à mettre en oeuvre. L'évolution de la ZPS, depuis la rédaction du DOCOB jusqu'à l'étude actuelle, est donc étudiée à l'aide d'indice paysagers via le logiciel FRAGSTATS afin de caractériser le paysage. Des IPA et des transects sont réalisés pour recenser l'avifaune présente et son lien avec le paysage. Une augmentation de l'hétérogénéité structurelle et une diminution de l'hétérogénéité de composition sont trouvée, ainsi qu'une augmentation des zones de cultures. Les inventaires ont permis de recenser 81 espèces et parmi les espèces les plus importantes du site, les relations positives le sont avec les prairies et les éléments fixes (haies, bosquets, vergers) tandis que les relations négatives sont liées aux cultures.
Fichier principal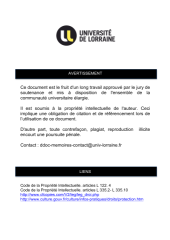 BUS_M_2015_ROUSSIN_NICOLAS.pdf (2.38 Mo)
Télécharger le fichier
Origin : Files produced by the author(s)