Résistance partielle au phoma du tournesol : approche épidémiologique et mesure des composantes de résistance
Sunflower black stem disease, caused by Phoma macdonaldii, is present in all French sunflower production areas. The use of resistant varieties represents a potential effective option for disease control, representing a cheap and environment-friendly option. Sunflower partial resistance to P. macdonaldii was observed in several genotypes; this feature could therefore be included in breeding programs. The methodology developed during the internship corresponds to an epidemiological approach to identify predictors of sunflower partial resistance to phoma in controlled conditions. The measurements of such epidemiological parameters of phoma resistance were done after inoculation on sunflower seedlings in phytotron. In controlled conditions, the components of sunflower partial resistance to phoma are the components of resistance to infection and colonization. Two predictors for partial resistance were identified and were associated to disease intensity at the beginning of epidemic in the field. Finally, no interaction between genotype of sunflower and strains of P. macdonaldii was detected for the different epidemiological parameters measured in this work.
La maladie des tâches noires du tournesol, causée par Phoma macdonaldii, est présente dans toutes les zones de production françaises. L'utilisation de variétés résistantes représente la seule option potentiellement efficace, peu couteuse et respectueuse de l'environnement, pour gérer cette maladie. La résistance partielle du tournesol envers P. macdonaldii a été détectée dans plusieurs génotypes ; ce trait pourrait donc être inclus dans les programmes de sélection variétale. La méthodologie élaborée durant ce stage est fondée sur une approche épidémiologique pour identifier des prédicteurs de la résistance partielle au phoma du tournesol au champ à partir de mesures réalisées en conditions contrôlées. Les mesures des paramètres épidémiologiques du phoma sont effectuées après inoculation artificielle sur jeune plantule de tournesol en phytotron. En conditions contrôlées les composantes de résistance qui s'expriment sont la composante de résistance à l'infection puis celle à la colonisation. Deux prédicteurs ont pu être identifiés pour prédire la résistance partielle au champ en début d'épidémie. Enfin, aucune interaction entre génotype de tournesol et souche de phoma n'a pu être montrée pour les différents paramètres épidémiologiques mesurés.
Fichier principal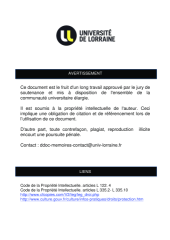 BUS_M_2014_LEPENNETIER_AURELIEN.pdf (1.2 Mo)
Télécharger le fichier
Origin : Files produced by the author(s)