Les ressources d'un territoire pour un public spécifique : exemple du repérage, du diagnostic et de l'accompagnement précoce des enfants de 0 à 6 ans autistes et TSA sur le territoire des Vosges
This master thesis gives an account of the work carried out between January 2015 and July 2015 in a home of the person with multiple disabilities in the territory of the Vosges. As part of the regionalization of the 3rd Autism Plan 2013-2017, ARS of Lorraine has developed a departmental level Regional Action Plan Autism declined by the Territorial Delegation of the Vosges ARS to form a link with local relays territorial and based on the needs and supply identified on the Vosges area. In this context, the DT ARS mandated 4 representatives of the Vosges associations to lead the "Working Group Autism" project focusing on the screening, diagnosis and early support for children with autism aged between 0 and 6 years in the territory. This research reports on the implementation of this project.
Le mémoire rend compte du travail de recherche réalisé entre janvier 2015 et juillet 2015 au sein d'une Maison de la Personne Polyhandicapée sur le territoire des Vosges. Dans le cadre de la territorialisation du 3ème Plan Autisme 2013 – 2017, l'ARS de Lorraine a élaboré un Plan d'Action Régional Autisme décliné au niveau départemental par la Délégation Territoriale ARS des Vosges afin de constituer un relais de proximité en lien avec les acteurs territoriaux et en fonction des besoins et de l'offre recensés sur le territoire vosgien. Dans cette optique, la DT ARS a mandaté 4 représentants d'associations vosgiennes afin de mener le projet « Groupe de travail Autisme » en mettant l'accent sur le dépistage, le diagnostic et l'accompagnement précoce des enfants autistes et TSA âgés de 0 à 6 ans sur le territoire. Ce travail de recherche rend compte de la mise en oeuvre de ce projet.
Fichier principal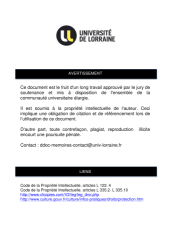 BUS_M_2015_ECHALLIER_YOHANN.pdf (1.92 Mo)
Télécharger le fichier
Origin : Files produced by the author(s)