Musique et communication : effets d'un atelier musical sur les compétences verbales et nonverbales de l'enfant avant 3 ans
In 2001, the Agence Nationale d'Accréditation et d'Evaluation en Santé (A.N.A.E.S.) recognizes the psycho-socio-cultural components as part of the risk factors for the development of communication and language. Since then, other studies have shown the importance of the home environment and earlyinteractions in the development ofcommunication. Furthermore,links between music and language have been discussed many times in the literature. More and more studies suggest that the music has a therapeutic power. Besides, relationships were established between brain plasticity, language acquisition and musical skills, which is an important argument for early intervention. So, we assume that music could be an appropriate therapeutic approach to ameliorate children's communication skills, when they have been exposed to psychological, sociological or cultural risk factors. This study will measure the effects of a music intervention on the verbal and non -verbal skills, with children under 3 years from vulnerable backgrounds. For this, we observed 8 children from the pouponnière (the structure of the Aide Sociale à l'Enfance, for children from 0 to 3 years), who enjoyed musical interventions. The analysis of these observations showed quantitative and qualitative changes in children's communication : increase verbal and non-verbal productions, strengthening the contact status and stimulation of the use of essential prereq uisites for the development of communication. Because of the small sample size, results we have obtained must be qualified. However they remain encouraging and allow to considering music as a tool for rehabilitation and prevention of communication disorders.
En 2001, l'Agence Nationale d'Accréditation et d'Évaluation en Santé (A.N.A.E.S.) reconnaît les composantes psycho-socio-culturelles comme faisant partie des facteurs de risque pour le développement de la communication et du langage. Depuis, d'autres études ont montré l'importance de l'environnement familial et des interactions précoces dans le développement de la communication.Par ailleurs, les liens unissant la musique et le langage ont de nombreuses fois été abordés dans la littérature. De plus en plus d'études apportent la preuve des bienfaits et du pouvoir thérapeutique de la musique. En outre, des relations ont été établies entre plasticité cérébrale, acquisition du langage etcompétences musicales, ce qui constitue un argument fort en faveur d'une intervention précoce. Ainsi,nous supposons que la musique pourrait être un outil thérapeutique adapté pour favoriser lescompétences communicationnelles des enfants ayant été confrontés à certains facteurs de risque psycho-socio-culturels. Cette étude a donc eu pour objectif de mesurer les effets d'un atelier musicalréalisé auprès d'enfants de moins de 3 ans issus de milieux vulnérables, sur leurs compétences verbales et non-verbales. Pour cela, nous avons observé 8 enfants de la pouponnière (structure de l'Aide Sociale à l'Enfance accueillant des enfants de 0 à 3 ans), qui bénéficiaient d'interventions musicales. L'analyse de ces observations a mis en évidence une évolution quantitative et qualitative de leur communication : augmentation des productions verbales et non-verbales, renforcement du statut d'interlocuteur et stimulation de l'utilisation des pré-requis indispensables au développement de la communication. En raison de la petite taille de notre échantillon, les résultats que nous avons obtenus doivent être nuancés. Toutefois, ils demeurent encourageants et permettent d'envisager la musique comme outil de rééducation et de prévention des troubles de la communication.
Fichier principal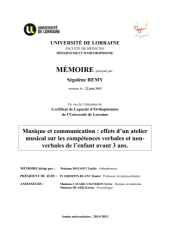 BUMED_MORT_2015_REMY_SEGOLENE.pdf (5.98 Mo)
Télécharger le fichier
Origin : Files produced by the author(s)