La prise en charge du chanteur de métal et ses spécificités
"Dist singing" is a commonly self-taught practice used in metal music wrongly seen as pathogenic. In this study, we are investigating how the speech therapist can help the metal singer who is suffering from vocal disorder as well as identifying the possible factors to explain the rarity of this particular therapy. Therefore, we first came up with a hypothesis about the effects of therapy on distorted singing and then put together an overview of the current situation of this speech therapy practice. We directed three surveys intended to the people involved in this therapy, both directly and indirectly: the speech therapist, the singer, the teacher. The therapist had to either validate or disprove our speculation and describe the characteristics of the care they provided. We asked the singer about his vocal habits, as well as precisions about the therapy he has undertaken or his opinion about potentially asking for one. The instructor also had to either support or refute our assumption and tell us about his views on speech therapy and medical care. The results of the surveys confirmed our hypothesis and also brought to light the various specificities of the metal singer's therapy. According to our data, both singers and teachers would accept to go to a speech therapist in case of voice disorders. Moreover, the vocalist's level of knowledge does not affect his trust in speech therapy. Despite its rare occurrence, the metal singer's therapy reveals itself to be both efficient and long-lasting effects for the patient, and can be achieved by a therapist willing to adjust his practice to a different set of expectations with no need of a specific training beforehand.
Le chant saturé, utilisé dans la musique metal, est une pratique vocale souvent apprise en autodidacte et perçue à tort comme pathogène. Nous avons voulu savoir par ce travail comment l'orthophoniste peut prendre en charge le chanteur de metal qui souffre de troubles vocaux et observer les facteurs possibles de la rareté de cette rééducation. Nous avons donc émis une hypothèse sur l'action de la prise en charge sur la voix saturée puis procédé à l'établissement d'un état des lieux de cette pratique orthophonique. Nous avons rédigé trois questionnaires à destination des personnes directement et indirectement concernées par la rééducation : l'orthophoniste, le chanteur et l'enseignant. Le thérapeute doit valider ou réfuter l'hypothèse et nous décrire les caractéristiques de la prise en charge. Nous demandons au chanteur ses habitudes vocales, des indications sur la rééducation vocale qu'il a suivie ou sa position quant à une éventuelle prise en charge. Le pédagogue doit aussi étayer notre postulat et nous faire part de ses représentations concernant l'orthophonie et le milieu médical. Les résultats des formulaires corroborent notre hypothèse permettent de mettre en évidence diverses particularités de la rééducation du chanteur de metal. Les données indiquent que les chanteurs et les professeurs s'en remettraient à un spécialiste de la voix en cas de trouble vocal. De plus, le niveau de connaissances du vocaliste n'influe pas sur sa confiance en l'orthophoniste. En dépit de sa rareté, la prise en charge du chanteur de métal s'avère donc efficace et durable pour le patient et accessible au thérapeute qui sait adapter sa pratique à des attentes différentes sans nécessiter de formation au préalable.
Fichier principal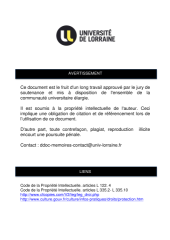 BUMED_MORT_2015_VISCA_CAROLINE.pdf (1.99 Mo)
Télécharger le fichier
Origin : Files produced by the author(s)