Evaluation du programme de coordination de la prise en charge de l'insuffisance rénale chronique après 4 ans de mise en place : programme PREVEnIR
A coordinated patient care, organized around the general practitioner should help to manage chronic kidney disease from the diagnosis point, to slow its progression and to prevent its complications. This is the aim of NEPHROLOR's health network through the coordination program PREVEnIR located on the Nancy district. This paper presents the results of the program after four years of operation, with 272 patients and 189 professionals implicated.Quantitative information extracted from the shared electronic medical record and individual qualitative interviews with patients (n = 24), general practitioners (n = 18) and nephrologists (n = 10) enabled to identify the program's impact, its strengths and weaknesses and one's expectations. Some improvement suggestions were made, as to further involve general practitioners within the program and to enter it within the current restructuring of territorial health systems.
Une prise en charge coordonnée, centrée sur le médecin généraliste devrait permettrait de prendre en charge la maladie rénale chronique dès son diagnostic, de ralentir sa progression et de prévenir ses complications. C'est l'objectif du réseau NEPHROLOR à travers le programme de coordination PREVEnIR implanté sur le Grand Nancy. Ce travail présente l'évaluation du programme après 4 ans de fonctionnement, 272 patients et 189 professionnels inclus. Les données quantitative extraites du dossier médical informatisé partagé ainsi que les entretiens qualitatifs individuels réalisés auprès des patients (n=24), des médecins généralistes (n=18) et des néphrologues (n=10) ont permis d'identifier les effets du programme, ses points forts et points faibles ainsi que les attentes de chacun. Des propositions d'amélioration ont été formulées, visant à impliquer davantage les médecins généralistes dans le programme et à l'inscrire dans la restructuration actuelle des réseaux territoriaux de santé.
Fichier principal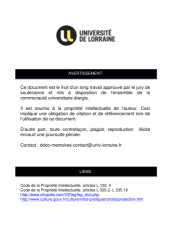 BUMED_MSPM_2015_BEGUINET_MELANIE.pdf (2 Mo)
Télécharger le fichier
Origin : Files produced by the author(s)