Quels moyens pour une réflexion collective et transversale sur le thème de l'accompagnement à la parentalité intégrant la question des inégalités sociales de santé ? Un exemple de stratégie : la capitalisation d'actions
While social inequalities in health are forged in early childhood, support for parenthood is a major lever to act for their reduction. In this context, several plans and actions have emerged but without real coordination between actors. Thus, the French Society of Public Health has set up a capitalization approach to encourage actors to make their activities known, by sharing their knowledge and experiences. A set of 123 actions was collected, of which 12 have been deepened by a qualitative interview. These actions were completed online over a period of five months by different leaders from various organizations (healthcare institutions, associations, mutual health insurances, health networks…). This work allowed us to draw methodological lessons to conduct a project of capitalization but also paths for recommendations on successful strategies to support actions for parenthood with an ISS reduction perspective. This work highlights the contribution of the critical look of project leaders and contributes to the networking and exchange of practices.
Alors que les inégalités sociales de santé se forgent dès la petite enfance, l'accompagnement à la parentalité est un levier majeur pour agir en faveur de leur réduction. Dans ce cadre, plusieurs dispositifs et actions ont vu le jour mais sans réelle coordination entre les acteurs. Ainsi, la Société Française de Santé Publique a mis en place une démarche de capitalisation afin d'encourager les acteurs à faire connaître leurs actions en partageant leurs connaissances et expériences. Un panel de 123 actions a été recueilli dont 12 ont été approfondis par un entretien qualitatif. Les actions ont été remplies en ligne sur une période de cinq mois par différents porteurs issus de structures variées (établissement de santé, associations, mutuelles, réseaux…). Ce travail nous a permis de tirer des enseignements sur la méthode pour mener une démarche de capitalisation mais aussi des pistes de recommandations sur les stratégies qui se veulent efficaces en matière d'actions d'accompagnement à la parentalité dans une visée de réduction des ISS. Ce travail met en lumière l'apport du regard critique des porteurs d'actions et contribue au travail de mise en réseau et d'échange des pratiques.
Fichier principal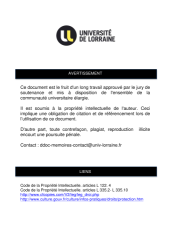 BUMED_MSPM_2015_MAFFEIS_LORRAINE.pdf (651.95 Ko)
Télécharger le fichier
Origin : Files produced by the author(s)