L' allaitement maternel dans sa complexite et la survenue d'une depression en post partum : étude observationnelle auprès des mères primipares ayant accouché à la Maternité du Centre Hospitalier Régional et Universitaire de Nancy entre le 14 Octobre et le 1er Décembre 2014
INTRODUCTION: Maternal depression remains inthe curren tissueof Public Health both its frequency and by itsconsequences for the mother and herentourage. Several studies have shown that breastfeeding is a protective factor of maternal depression. The purpose of this paper was to investigate the relationship between complications say "early"of breastfeeding and the occurrence of postpartum depression. METHOD: A questionnaire was set up with 49 first-time mothersover a period of six weeks. RESULTS: The result did not demonstrate concrete existenceof that link. DISCUSSION AND CONLUSION: However, two disturbing elements emerged: 83.3% of first-time mothers suffer from breastfeeding complications in puerperium and 37.5 % after the return home. They are 41.67% to be placed in a risk population face in maternal depression postpartum according to the criteria of our study.
INTRODUCTION: La dépression maternelle reste en enjeu actuel de Santé Publique tant par sa fréquence que par ses conséquences sur la mère et son entourage proche. Plusieurs études ont permis de montrer que l'allaitement est un facteur de protection de la dépression maternelle. Le but de ce mémoire était de rechercher le lien entre les complications dites « précoces » de l'allaitement et la survenue d'une dépression en post partum. MÉTHODE : Une étude par questionnaire a été mise en place auprès de 49 mères primipares sur une durée de six semaines. RÉSULTATS : Les résultats n'ont pas permis de démontrer l'existence concrète de ce lien. DISCUSSION ET CONCLUSION : Cependant, deux éléments inquiétants ont émergé : 83,3% des mères primipares souffrent de complications de l'allaitement en suites de couches et 37,5%, après le retour à domicile. Elles sont 41,67% à se placer dans une population à risque face à la dépression maternelle du post partum selon les critères de notre étude.
Fichier principal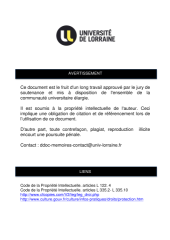 BUMED_MESF_2015_ACHAND_CAMILLE.pdf (424.57 Ko)
Télécharger le fichier
Origin : Files produced by the author(s)