Mise en place d'un protocole de suivi de fermeture du milieu lacustre sur le site des Salines de Montjoly (Guyane française) et proposition de mesures de gestion
Knowledge about the closure of wetlands of Guyana remains incomplete. This study aims to confirm the closure of the lake environment on the Salines de Montjoly site and to know the causes. It also seeks to know the impacts of successive openings and closings of the dune. Photo-interpretation of satellite and aerial imagery has been completed and the closing speed of the natural environment was quantified. Five water areas of the site have been identified and characterized (in terms of flora, fauna, hydrology and chemistry). However, prolonged opening of the dune caused an emptying of the site and characterization could not be completed. Nevertheless, the immediate impact of this emptying has been evaluated. There is indeed a closure of swamp, particularly due to an increase of white mangrove Laguncularia racemosa and herbaceous vegetation. This has accelerated because of successive openings of the dune, which caused complete drying up of the site and facilitated the development of white mangrove. The drying up of the site during the study allowed observing this dynamic in real time. An important filling of water areas could also be observed due to the accumulation of decaying plant, inputs of organic matter related to housing, development of white mangrove and herbaceous vegetation ... This study has propose management measures for the site.
La connaissance sur la fermeture des zones humides de Guyane reste encore incomplète. Cette étude a pour but de confirmer la fermeture du milieu lacustre sur le site des Salines de Montjoly et d'en connaitre les causes. Elle vise également à connaitre les impacts des ouvertures et fermetures successives du cordon dunaire. Une photo-interprétation d'images satellites et aériennes a été réalisé et la vitesse de fermeture du milieu a été quantifiée. Cinq zones en eau du site ont été définies et caractérisées (au niveau de la faune, la flore, l'hydrologie et la chimie). Cependant, une ouverture prolongée du cordon dunaire a provoqué une vidange du site et la caractérisation n'a pas pu être terminée. Néanmoins, l'impact immédiat de cette vidange a pu être évalué. Il y a bien une fermeture du milieu lacustre, notamment en raison d'une progression des paléuviers gris Laguncularia racemosa ainsi que de la végétation herbacée. Celle-ci s'est accélérée en raison des ouvertures successives du cordon dunaire, qui ont provoqué des assèchements complets du site et ont facilité le développement du palétuvier gris. L'assèchement du site durant l'étude a permis d'observer cette dynamique en direct. Un important comblement des zones en eau a également pu être observé en raison de l'accumulation de matières végétales en décomposition, des apports de matières organiques liés aux habitations, du développement du palétuvier gris ainsi que de la végétation herbacée … Cette étude a permis de proposer des mesures de gestion pour le site.
Fichier principal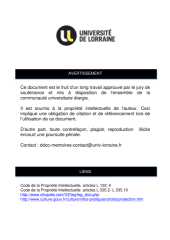 BUS_M_2014_VEINANTE_FANNY.pdf (2.21 Mo)
Télécharger le fichier
Origin : Files produced by the author(s)