Bilan et évaluation du Contrat d'Aide à la Compétitivité (2007-2013) pour la filière forêt-bois en Franche-Comté
Established for the period 2007-2013, the "Help Competitiveness Contract (HCC) for the forest-wood (F-W) sector" of the Franche-Comté region was given the task of setting guidelines to support the development of the whole F-W sector, which has been identified as a priority at the regional level. After six years of operation, the national and the regional governments commissioned the Regional Association for the Development of Forest and Wood Industries (ADWI) to make a comprehensive assessment of the actions carried out by all project leaders for the Upstream and Downstream groups. It is in this context that this graduate thesis, which reports on the internship work performed in the inter-professional organization, takes place. More precisely, this work has consisted of leading a series of surveys by qualitative interviews in order to conduct a thematic analysis of the collected remarks. In accordance with the order placed by the ADWI, the approach has deliberately discarded the quantitative and financial aspects, which have already been identified and followed, to concentrate only on the project leaders' qualitative assessment. Other summary work eventually led to the writing of a research report annexed from simplified rubrics. In line with the proposals set out in the Regional Meetings for the F-W sector, the latter should help to define the future programming period (2014-2020) of strategic support in favor of the F-W sector of Franche-Comté.
Établi pour la période 2007-2013, le « Contrat d'Aide à la Compétitivité (CAC) pour la filière forêt-bois (F-B) de Franche-Comté » avait pour objectif de fixer les orientations afin d'accompagner le développement de l'ensemble de la filière F-B, identifiée comme prioritaire au niveau régional. Au terme de ces six années d'exercice, l'État et la Région ont missionné l'Association Régionale pour le Développement de la Forêt et des Industries du Bois (ADIB), pour réaliser un bilan complet des actions conduites par l'ensemble des porteurs de projets de l'Amont et de l'Aval. C'est dans ce contexte que s'inscrit le présent Mémoire qui rapporte le travail de stage effectué au sein de l'interprofession. Plus précisément, il s'est agi de mener une série d'enquêtes par entretiens qualitatifs, en vue de procéder à une analyse thématique des propos recueillis. Conformément à la commande passée à l'ADIB, la démarche a volontairement écarté les aspects quantitatifs et financiers, déjà bien suivis et recensés, pour se concentrer uniquement sur l'appréciation qualitative des porteurs de projets interviewés. Les travaux de synthèse ont finalement abouti à la rédaction d'un rapport d'études annexé de grilles d'évaluation simplifiées. En lien avec les propositions retenues lors des Rencontres Régionales pour la filière F-B, ce dernier devrait permettre de définir la future programmation (2014-2020) de soutien stratégique en faveur de la filière F-B franc-comtoise.
Fichier principal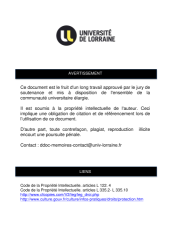 BUS_M_2014_ROMARY_SIMON.pdf (834.35 Ko)
Télécharger le fichier
Origin : Files produced by the author(s)