Effect of climate change on population dynamics of bark beetles: relationships between temperature and development rate of Ips sexdentatus (Boern.)
Global warming may trigger higher risk of biotic damage in forests because pest insects can quickly respond to increasing temperature through improved reproductive success. The present study aimed at studying the effect of warmer conditions on the population dynamics of Ips sexdentatus, the stenographer bark beetle. We performed breeding trials at six temperature regimes to determine the thermal requirements for complete development and we developed a model of degree-days to estimate the voltinism of the insect. We also tested the effects of temperature and breeding substrate on the number of offspring and their individual fitness. The minimum temperature threshold for I. sexdentatus development was estimated at 11±1°C, and the sum of degree-days at 517±52 DD. Adult developmental time required from 35 days at 25.5°C to 121 days at 15°C. On average, I. sexdentatus had two complete generations per year in Southern France over the past 17 years. The number of offspring per female exponentially increased with increasing temperature and volume of phloem whereas these variables had no influence on the sex ratio and individual beetle's fitness. This suggests that increasing temperatures would result in more generations per year and more offspring per generation and in consequence higher risk of bark beetle outbreaks.
Le réchauffement climatique menace particulièrement les forêts, peu aptes à s'adapter à des changements rapides. La reproduction des ravageurs forestiers est au contraire favorisée par ces nouvelles conditions, augmentant ainsi le risque d'épidémie. Cette étude a cherché à déterminer les besoins thermiques et le temps de développement de Ips sexdentatus sous six différents régimes de températures testés en laboratoire. Nous avons aussi étudié le voltinisme de cette espèce ainsi que les effets de la température et du substrat sur les caractéristiques des descendants. Le seuil de développement a été estimé à 11±1°C et la somme de degrés/jours pour l'émergence des descendants à 517±52 DD. Le développement jusqu'à l'état adulte demande de 35 jours sous une température de 25.5°C à 121 jours à température de 15°C. Nous pouvons ainsi estimer que I. sexdentatus a présenté deux générations complètes par an en Aquitaine lors des 17 années passées. Les températures élevées ont pour effet d'augmenter le nombre d'individus par descendance sans toutefois avoir d'incidence sur le sex-ratio ni sur la taille moyenne ou la charge alaire des jeunes adultes. Ces résultats suggèrent qu'un accroissement des températures augmenterait le nombre de générations par an et le nombre d'individus par génération, contribuant à augmenter fortement le risque de pullulations.
Fichier principal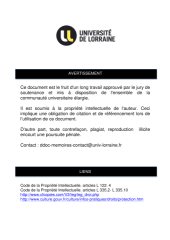 BUS_M_2014_PETER_ZSUZSANNA.pdf (2.03 Mo)
Télécharger le fichier
Origin : Files produced by the author(s)