Elaboration d'un biofilm artificiel électroactif
Electro active artificial biofilm is a structure mimicking natural biofilm with monoclonal bacterial population immobilized in film which is able to transfer electron to external environment. Bacterium's growth and reliability could be controlled in those films. We have evaluated the interest of layer-by-layer's assembly with bacterium (Pseudomonas Putida) and carbon nanotubes (CNT) to get such electroactive artificial biofilm. CNT are conductive nanoparticles which could improve electron transfer between biofilm and final electron acceptor. Primary experiments have shown no electroactivity with the primary assembly. Experience of flocculation confirmed that cytotoxicity of CNT was detrimental to the metabolic activity of bacteria. Adapted strategy allow us to strongly minimize this toxicity using cytochrome c or silica in the deposition protocol. Final assembly involving bacteria, cytochrome c, CNT and silica show significant electroactivity.
Un biofilm artificiel électroactif est définit comme une structure mimant un biofilm naturel où une population bactérienne monoclonale immobilisée sous forme de film est capable de transfert extracellulaire d'électrons avec le milieu extérieur. La croissance et la viabilité des bactéries composant ces films doivent être maitrisées. Dans le but de produire de façon contrôlée un biofilm artificiel électroactif nous avons évalué l'intérêt d'un assemblage couche-par-couche de nanotubes de carbone (CNT) et de bactéries (Pseudomonas Putida). Les CNT utilisés sont des nanoparticules conductrices pouvant aider à transférer les électrons entre les bactéries et un collecteur final (ici une électrode de graphite). Le biofilm formé n'a cependant montré aucune activité électrochimique du fait de la cytotoxicité de ces nanotubes. La mise en place d'une stratégie originale nous a permis néanmoins de réduire significativement cette toxicité et d'améliorer l'activité électrochimique. Associées au cytochrome c, les cellules du biofilm présentent une plus faible sensibilité aux CNT. Enfin, cette toxicité a été également réduite en enrobant les cellules d'un gel de silice. Finalement l'assemblage bactérie-cytochrome c–CNT-silice s'est montré efficace et a permis de donner une activité électrochimique significative du biofilm artificiel.
Fichier principal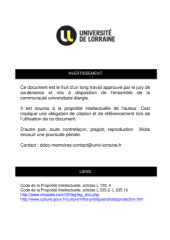 BUS_M_2014_PINCK_STEPHANE.pdf (4.35 Mo)
Télécharger le fichier
Origin : Files produced by the author(s)