Le placement et l'utilisation des appuis podaux et manuels : un apprentissage clé en escalade chez des élèves de lycée
This dissertation about climbing activity offers an original way to use video's supports and a grid of observations in the form of explanatory graphics. This study takes place in a climbing's cycle with pupils in their final year at school whose class is composed of 26 students with a very heterogeneous motricity. Grid observations declined in several forms can highlight three main motors levels we disclaim in two intermediate levels. These intermediate levels involved to transcribe on paper, levels being acquired, observable on the spot. It also allows detail the motivity for each student. From the analysis of these observations focused on handholds and footholds are presented in the form of sectors and diagrams for easy reading. We highlighted correspondences between motors level of handholds and footholds and technical levels. It offers a reading grid facilitating the elaboration of educational differentiation for teachers that will target variables to put in place to ensure "the success of all". Thus, this analytical tool part in the identification of needs groups and individual problems.
Ce mémoire sur l'activité escalade propose une manière originale d'exploiter des supports vidéos et une grille d'observations sous la forme de graphiques explicatifs. Cette étude se déroule dans un cycle d'escalade avec une classe de terminale composée de 26 élèves ayant un niveau moteur très hétérogène. La grille d'observations déclinée sous plusieurs formes, permet de mettre en évidence 3 niveaux moteurs principaux que nous déclinerons en deux niveaux intermédiaires. Ces niveaux intermédiaires participent à retranscrire sur support papier, des niveaux en cours d'acquisitions observables sur le terrain. Elle permet également de détailler le niveau moteur pour chaque élève. A partir de l'analyse de ces observations ciblées sur les appuis manuels et pédestres, sont présentées sous forme de secteurs et de diagrammes pour en faciliter la lecture. Nous avons mis en évidence des concordances entre les niveaux moteurs des appuis manuels et pédestres et les niveaux techniques. Elle offre une grille de lecture facilitant l'élaboration d'une différenciation pédagogique pour l'enseignant qui ciblera les variables à mettre en place afin d'assurer « la réussite de tous ». Ainsi, cet outil d'analyse participe à la mise en évidence de groupes de besoins et des difficultés individuelles.
Fichier principal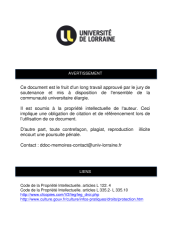 BUS_M_2014_HARBONVILLE_CELINE.pdf (2.01 Mo)
Télécharger le fichier
Origin : Files produced by the author(s)