Le partenariat des collectivités territoriales dans l'événementiel sportif : avantages et inconvénients du monde associatif et commercial
When we talk about sports events, people can be mistaken because most of the time they think that a sport event is implemented by an event agency. Most of people think that private and public sector don't work with each other. But the fact is, local communities do lots of sports events in partnership with associations and private companies. This report put several generally accepted ideas to rest once and for all and explain advantages en disadvantages of each sector.
La notion d'événementiel sportif est très souvent abstraite dans la tête des gens. Souvent les personnes pensent qu'un événement sportif est monté de toutes pièces par des agences d'événementielles et pensent que le monde privé est dissocié du monde public. Or, beaucoup d'événement sont mis en place par des collectivités territoriales et développe des partenariats avec des associations à but non lucratif mais également des entreprises privés. Ce mémoire vient tordre le coup aux idées reçus et tente d'expliquer les avantages et inconvénients de chaque milieu.
Fichier principal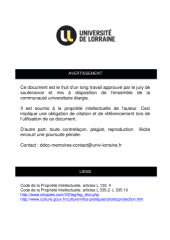 BUS_M_2013_AIT-AKKA_ABDELLATIFE.pdf (1.32 Mo)
Télécharger le fichier
Origin : Files produced by the author(s)