Les activités physiques de bien-être, une nouvelle orientation pour la politique touristique et sportive de Vittel
In the perspective of revitalizing its tourist and sports policies, Vittel has decided to put forward new services in the field of sport, health and nature while keeping the existing. A detailed diagnosis of the current situation has allowed to consider the physical activities of well-being as a conveyor of its revitalizing. Since several years, the city has built its reputation thanks to the development of high level sport through its Centre de Préparation Omnisports sporting facilities. But today, a new juncture emerges with the development of sport, health, wellbeing practices in our society. Coming out of the realized analysis, it appears that the public is more attracted by these new trends of practices. Afterward, we have identified the potential steps to achieve to the right organization of the physical activity area. The setting out of physical activities dedicated to health should interest of new publics and should also make the environment propitious to a new type of practices adapted to wellbeing. These remarks are going to be illustrated through a local action.
Dans une démarche de redynamisation de ses politiques touristiques et sportives, la ville de Vittel souhaite proposer de nouvelles prestations sur les thèmes du sport, de la santé et de la nature tout en gardant l'existant. Un diagnostic détaillé du contexte a permis d'envisager les activités physiques bien-être comme vecteur de redynamisation. Depuis de nombreuses années, la ville a construit sa renommée sur le développement du sport de haut niveau grâce au Centre de Préparation Omnisports. Mais aujourd'hui, c'est un nouveau domaine d'attractivité qui s'ouvre à la ville, celui du sport, santé et du bien-être, qui tend de plus en plus à se développer dans notre société. De l'analyse réalisée, nous avons démontré que le public est attiré par ces nouveaux modes de pratiques physiques. Par la suite, nous avons identifié les étapes clés d'un cheminement visant à organiser les activités physiques sur le territoire. La mise en place des activités physiques pour la santé va permettre d'attirer de nouveaux publics, et de rendre l'environnement favorable à un nouveau type de pratique beaucoup plus lié au bien-être. C'est à travers une action locale que nous avons illustré nos propos.
Fichier principal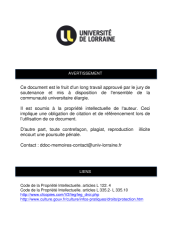 BUS_M_2013_CHAPON_QUENTIN.pdf (2.06 Mo)
Télécharger le fichier
Origin : Files produced by the author(s)