Optimisation de la gestion de la production frigorifique de la centrale énergie du NHM-HFME
Allow for thermal comfort and cooling medical equipment, the partnership agreement with the " Centre Hospitalier Régional " (CHR) DALKIA committed to provide chilled water at 6/12 ° C output pressure gas bottle, for a load called variable. To develop a process to meet these specifications, DALKIA turned to American company specialized in the Cold: TRANE. Despite the reputation of the world-renowned "Giant's cold," the work that was given to me was, first of all to understand and analyze the process in order to help his grip. Then in a second time, bring a critical eye on the management of refrigeration, in order to optimize its operation. And finally, try to develop plans of action.
Pour permettre le confort thermique et le refroidissement du matériel médical, le contrat de partenariat avec le Centre Hospitalier Régional (CHR) engage DALKIA à fournir de l'eau glacée à un régime de 6/12°C sortie bouteille gaz pression, pour une charge appelée variable. Pour élaborer un process permettant de satisfaire ce cahier des charges, DALKIA a fait appel à la société Américaine spécialisée dans le Froid : TRANE. Malgré la réputation mondialement reconnue de ce « Géant du froid », le travail qui m'a été confié fut, tout d'abord de comprendre et d'analyser le process en vue d'aider à sa prise en main. Puis dans un second temps, de porter un oeil critique sur la gestion de la production frigorifique, en vue d'optimiser son exploitation. Et enfin, de chercher à développer des plans de conduite.
Fichier principal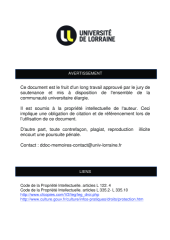 BUS_M_2012_BIANCHI-MIRASOLE_PHILIPPE.pdf (2 Mo)
Télécharger le fichier
Origin : Files produced by the author(s)