Conceptualisation et expérimentation d'une nouvelle méthode de recrutement par le biais du sport
Considering the actual observations, this paper explores and proposes an innovative recruitment tool for the companies. Firstly, the French companies are crossing a difficult period in terms of employment which is testified by the recent record rate of unemployment. Secondly, the sport seems to take a new dimension in our society. Much more than a fitness issue, sports have become a remarkable tool of human investment for the companies. Thirdly, recruiting firms are following the complex and conventional methods of recruiting. May be the main cause particularly relies in the recruitment methods which sometimes seems to be obsolete or inadequate. To conclude, sport could be a main useful factor for the selection process by facilitating the work of the recruiters. Through a profound experimental protocol and its results, it is possible to apply the benefits of this approach and its adaptability to many companies.
En s'appuyant sur trois constats actuels, ce mémoire explore et propose un nouvel outil de recrutement pour les entreprises. Premièrement, la société française semble traversée une époque difficile sur le plan de l'emploi. Le taux de chômage record vient en témoigner. Deuxièmement, le sport semble prendre une dimension nouvelle dans la société. Bien plus qu'un enjeu de santé, les activités sportives sont devenues des outils remarquables d'investissement humain au sein de l'entreprise. Troisièmement, les entreprises semblent éprouver des difficultés à recruter. La cause peut notamment se trouver dans les méthodes de recrutement qui sont parfois obsolètes ou encore inadaptées. Ainsi, le sport pourrait devenir un outil remarquable de sélection, facilitant le travail des recruteurs. Par le biais d'un protocole expérimental et de ses résultats, il est possible de conclure sur les bienfaits d'une telle démarche et son adaptabilité à de nombreuses entreprises.
Fichier principal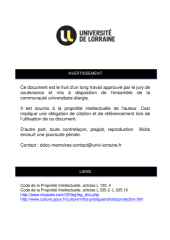 BUS_M_2012_AMIMI_MEHDI.pdf (3.96 Mo)
Télécharger le fichier
Origin : Files produced by the author(s)