Démarche de projet de création d'entreprises innovantes dans le domaine du sport et du handicap. Réflexion sur la gestion des connaissances
The management of the knowledge, maybe more known under its English word of Knowledge management, thus established(constituted) little by little from these problems of ground, in the service of companies, to become now a real discipline having its appropriate(clean) problem, its methods and its tools. It is a material(subject) to become who(which) borrows from varied domains: economy, management, human sciences, sciences and information technologies, sciences of the education etc. His objective is ambitious: set up devices(plans) (organizations, methods and tools) which value, in a very wide sense(direction), the heritage(holdings) of knowledge which any social organization (and more only a company) accumulates solely during its life cycle. The stake for companies is strong: productivity, competitiveness, sustainability.This report thus makes a parallel between these elements there and an approach (initiative).
La gestion des connaissances, peut-être plus connue sous son vocable anglais de Knowledge Management, s'est donc constituée petit à petit à partir de ces problématiques de terrain, au service des entreprises, pour devenir maintenant une véritable discipline ayant sa problématique propre, ses méthodes et ses outils. C'est une matière en devenir qui emprunte à des domaines variés : économie, gestion, sciences humaines, sciences et technologies de l'information, sciences de l'éducation etc. Son objectif est ambitieux : mettre en place des dispositifs (organisations, méthodes et outils) qui valorisent, dans un sens très large, le patrimoine de connaissances que toute organisation sociale (et plus seulement une entreprise) accumule en propre durant son cycle de vie. L'enjeu pour les entreprises est fort : productivité, compétitivité, pérennité. Ce mémoire fait donc un parallèle entre ces éléments là et une démarche concrète qui se traduit par un projet de création d?entreprise dans le domaine du sport et du handicap.
Fichier principal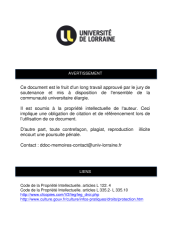 BUS_M_2012_LAVISSE_BRICE.pdf (1.16 Mo)
Télécharger le fichier
Origin : Files produced by the author(s)