En quoi un événement sportif est-il de nos jours exposé à des enjeux de responsabilité sociale et de développement durable autant que sa vocation économique ?
This project/essay deals with two wide-ranging topics. First, it enables us to understand characteristics and evolution of a sporting event over the past few years. Indeed, the word "event" corresponds tightly to the economic woes and the volunteer to increase profits. Thus, it is getting tougher to analyze. Motivation and organizers' motivation are difficult to understand. Second, the essay draws our attention on a new important stake that spotlights environment, social, societal criteria in the core business activity or sport event. It is more commonly used by the word: CSR i.e. Corporate Social Responsibility. To remain sustainable and legitimate the using of sport, sports organizations are increasingly compulsory to insert ethics forecasts in their global strategy. Therefore, we carry out a survey on professionals and actors panel coming from different background such as sport event, sport movement, federations, professional clubs and even associations to understand and identify their visions, action in order to broaden our thinking and measure their investment degree. The goal is to show that we are passing from sport marketing to a responsible marketing.
Ce mémoire à la particularité de traiter deux sujets de grande ampleur. Il permet de comprendre dans un premier temps les caractéristiques et l'évolution de l'événementiel sportif au cours de ces dernières années. En effet, le terme « événement » est désormais très étroitement lié avec la sphère économique et la volonté d'accroître ses profits. C'est ainsi qu'il devient un thème complexe à analyser où les motivations et les finalités des organisateurs sont difficiles à percevoir. Dans un deuxième temps, ce mémoire porte notre attention sur un nouvel enjeu majeur qui s'attache à valoriser, à mettre en avant, des paramètres environnementaux, sociaux et sociétaux au coeur de l'activité principale d'une entreprise ou d'une organisation sportive. Il est plus communément désigné par le terme de RSE, soit, Responsabilité Sociale d'Entreprise. Pour rester pérenne et légitimer l'utilisation du sport, les organisations sportives sont progressivement assujetties à incorporer des perspectives éthiques dans leur stratégie globale. Pour ce faire, nous avons interrogé un échantillon d'acteurs et de professionnels issus d'univers divers et variés tels que l'événementiel sportif, le mouvement sportif, les fédérations, les clubs professionnels ou encore les associations pour comprendre et identifier leurs approches, leurs actions afin d'élargir notre pensée et mesurer leur degré d'investissement. L'objectif de ce mémoire est de montrer que nous glissons progressivement d'un marketing sportif à un marketing responsable.
Fichier principal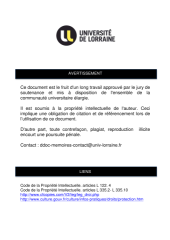 BUS_M_2012_DROUHIN_ANTHONY.pdf (7.06 Mo)
Télécharger le fichier
Origin : Files produced by the author(s)