Qualification du stockage SAN
After a storage suppliers consultation, initialized at the end of 2010, and which led to the choice of new MidRange SAN storage arrays, SAN storage engineering team has to realize the engineering of these new hardware in order to implement them in France Telecom-Orange datacenters. The missions of this SAN storage engineering team within IBNF (International and Backbone Networks Factory) are: - Providing SAN storage project management for France Telecom - Orange Group - Qualifying and providing engineering of SAN storage infrastructures. - Supporting operators and applicative project managers for the implementation of storage solutions in datacenters (IT and service platforms infrastructure). The purpose of this internship is to contribute to the qualification and the engineering for new storage arrays VNX (EMC), XIV (IBM) and 3PART (HP) i.e. to define the engineering rules (configuration, implementation, uses, uses' cases), to provide storage operating sheets, to develop if necessary operating scripts to simplify the operating tasks and to contribute to the implementation of the relation with the suppliers and the support chain.
Dans le cadre d'une consultation de fournisseurs de stockage, initialisée en fin 2010, et qui a conduit au choix des nouvelles baies de stockage SAN MidRange, l'équipe d'ingénierie stockage SAN est amenée à réaliser l'ingénierie des nouveaux matériels pour leur futur implémentation dans les centres de production de France Telecom-Orange. Les missions de cette équipe d'ingénierie de stockage SAN au sein d'IBNF (International and Backbone Networks Factory) sont: - Assurer la maitrise d'oeuvre du stockage SAN pour le Groupe France Telecom / Orange. - Qualifier et réaliser l'ingénierie des infrastructures de Stockage SAN. - Accompagner les exploitants et les MOE applicatives dans la mise en oeuvre des solutions en centre de production (IT et plates formes de service). Ce stage a pour but de contribuer à la qualification et à l'ingénierie des nouvelles baies de stockage VNX(EMC), XIV(IBM) et 3PAR(HP), c'est-à-dire de définir les règles d'ingénierie (configuration, mise en oeuvre, utilisation, cadre d'usage), d'élaborer des fiches d'exploitations stockage, de développer si nécessaire des scripts d'exploitation pour simplifier les opérations d'exploitation et de contribuer à la mise en oeuvre de la relation avec les fournisseurs et de la chaine de soutien.
Fichier principal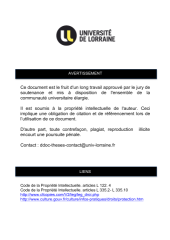 SCDSCI_M_2011_ESSAID_HASNA.pdf (1.33 Mo)
Télécharger le fichier
Origin : Files produced by the author(s)