Analyse de la biomasse racinaire d'Abies concolor en Sierra Nevada grâce à la technologie LiDAR et au traitement d'images
Parameterization of tree-roots is essential for studies of water and energy fluxes across land surfaces. However, it is difficult to quantify the three-dimensional structure of roots. The below-ground biomass of a white fir (Abies concolor) in the Critical Zone Observatory watershed was excavated by pressurized air with minimal damage and studied using the terrestrial LiDAR remote sensing technology and image processing. Coarse roots were reconstructed digitally with a 3-dimensional modeling software (Maptek I-Site Studio), originally designed for mining applications. The objective of this study was to extract parameters such as root length, diameter, surface, volume and their horizontal and vertical distribution. Fine roots were found difficult to process with the software so these parameters were extracted using digital photography combined with image analysis tools. Coarse root distribution was found to be decreasing logarithmically with depth from 30 to 155 cm below the soil surface. Root/shoot biomass ratio was approximately 0.16, with an estimated root volume of 0.63 m3 and a shoot volume of 3.95 m3. Fine root length density was found to increase radially away from the trunk, until reaching a distance of 180 cm and then decreased out to the edge of the excavation at 400 cm. Terrestrial LiDAR was very effective for obtaining a model close to the actual coarse root architecture while image processing was better for quantifying fine roots.
Le paramétrage des racines d'un arbre est essentiel pour étudier les flux d'eau et d'énergie dans le sol. Cependant, il est difficile de quantifier la structure tridimensionnelle des racines. La biomasse souterraine d'un sapin du Colorado (Abies concolor) dans le bassin versant de l'Observatoire de Zone Critique a été excavée par pression d'air avec un minimum de dommages et étudiée grâce a la technologie de télédétection d'un LiDAR terrestre et à l?analyse d'images. Les racines grossières ont été modélisées grâce à un logiciel de modélisation 3D (Maptek I-Site Studio), initialement conçu pour des applications minières. Le but de cette étude était d'extraire des données telles que longueur racinaire, diamètre, surface, volume et distribution horizontale et verticale des racines. Les racines fines ont été difficiles à traiter avec le logiciel, donc leur étude s'est faite en utilisant des photographies numériques combinées à des outils d'analyse d'image. La distribution des racines grossières diminue logarithmiquement en profondeur de 30 à 155 cm en dessous de la surface du sol. Le ratio biomasse souterraine/biomasse aérienne est d'environ 0,16, avec un volume total racinaire de 0,63 m3 et un volume de biomasse aérienne de 3,95 m3. La densité de longueur des racines grossières augmente radialement en s'éloignant du tronc, jusqu'à environ 180 cm puis diminue jusqu'à 400 cm, où les racines disparaissent. Le LiDAR terrestre s'est révélé très efficace dans l'obtention d'un modèle proche de l'architecture réelle des racines grossières alors que le traitement d'image est meilleur pour quantifier les racines fines.
Fichier principal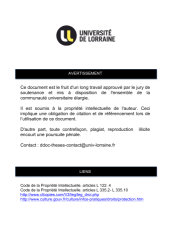 SCDSCI_M_2011_EUMONT_ESTELLE.pdf (36.59 Mo)
Télécharger le fichier
Origin : Files produced by the author(s)