La mise en place et l'utilisation de supports de promotion et de fidélisation dans un territoire sportif en crise
In a our current ever-changing society, it has become more and more difficult for a company to face the hard competition. Today more than ever, this fact can be noticed in the leading authorities of French sport too, especially in the sports federations and their decentralized entities. In order to face the permanent evolution of the sports practices' offers and the emergence of outdoor activities, the historic federations have to enhance their sports products and their development axes. Otherwise, they might loose a significant number of members, who can henceforth be considerated as real "customers". That is the reason why, it is crucial for them to initiate new customer loyalty programmes and to implement new supports of promotion. It seems to be the best way to avoid a flight of customers! This study will focus on the Lorraine territory and the tennis activity, which seems to be at the beginning of a real crisis of insufficient members. Therefore, we will analyse the development strategies of customer loyalty and the promotion actions which are used by the Ligue Lorraine de Tennis in view to overcoming the alarmist trend.
Dans une société en perpétuelle mutation il est souvent difficile pour une entreprise de faire face à une concurrence importante. Aujourd'hui plus que jamais, cette vérité se vérifie également chez les instances dirigeantes du sport français et notamment les fédérations sportives et leurs organes déconcentrés. Faisant face à une évolution permanente des offres de pratique et à l'émergence de plus en plus prononcée de pratiques de pleine nature, les fédérations historiques doivent faire évoluer leurs produits sportifs et leurs axes de développement, sous peine de perdre de nombreux licenciés, qui s'apparentent désormais à de réels « clients ». Dans ce sens, il leur faut donc de plus en plus mettre en place de véritables programmes de fidélisation des licenciés existants, mais également mettre en oeuvre et utiliser des supports de promotion de leur pratique, pour éviter une fuite de leur clientèle. Cette étude s'intéressera ici plus particulièrement au territoire lorrain et à la pratique du tennis, qui est peut-être actuellement au début d?une réelle crise des effectifs licenciés. Nous nous intéresserons donc aux stratégies de fidélisation et de promotion mises en place par la Ligue Lorraine de Tennis pour tenter de contrecarrer cette tendance alarmiste.
Fichier principal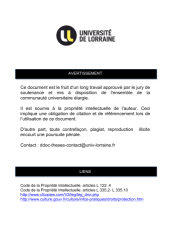 SCDSCI_M_2011_DUCASSE_JULIEN.pdf (1.37 Mo)
Télécharger le fichier
Origin : Files produced by the author(s)