Élaboration d'une filière d'accès aux métiers de l'activité physique, du sport et de l'animation sur le Territoire Nord Lorrain
Since 1982, the first decentralization law, the French government has transferred certain powers to the territories. The Regional Council has inherited the training. To organize so effective some regions have developed regional training plans. However, there are disparities between different regions and very few of them fall into a prospective approach. Lorraine is back in this approach on some parts work. Sport, new economic sector is not part of this process. The main cause of this exception is certainly in France, there are two pathways for sports governing trades. These two sectors coexist without real complementarity yet both provide an effective response to the teaching of APS at different levels of training. The qualitative shift in the supply of training takes the sport to clarify its position when its professionalization. This paper proposes the implementation of a system of training available from the lowest skill levels in three steps. These steps start from the social integration through sport to the exercise of the profession of sports instructor.
Depuis 1982, première loi de décentralisation, l'Etat français a transféré certaines compétences aux territoires. Les Conseil régionaux ont hérité de la formation professionnelle. Pour s'organiser de manières efficaces certaines régions ont élaboré des plans des formations régionaux. Toutefois il existe des disparités entre les différentes régions et très peu d'entre elles rentrent dans une démarche prospective. La Lorraine est rentrée dans cette démarche sur certaines branches professionnelle. Le sport, nouvelle branche économique ne fait pas partie de cette démarche. Les cause principales de cette exception est certainement qu'en France, Il existe deux filières d'accès aux métiers d'encadrant sportif. Ces deux filières coexistent sans réelle complémentarité pourtant toutes deux apportent une réponse efficace à l'enseignement des APS à différents niveaux de formation. L'évolution qualitative de l?offre de formation demande au sport de clarifier sa position quant à sa professionnalisation. Ce mémoire propose la mise en oeuvre d'une filière de formation accessible depuis les plus bas niveaux de qualification en trois étapes. Ces étapes démarrent depuis l'insertion sociale par le sport jusqu'à l'exercice du métier d'éducateur sportif.
Fichier principal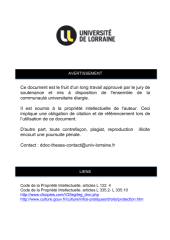 SCDSCI_M_2010_MARTIN_DAVID.pdf (2.15 Mo)
Télécharger le fichier
Origin : Files produced by the author(s)