Evaluation of the management of falls in the Senones nursing home and rehabilitation center and analysis on the implementation of coordinated care in the setting up of a geriatric 'elderly faller'
Evaluation de la prise en charge des chutes dans l'EHPAD et le SSR de Senones et réflexion sur la mise en place de soins coordonnés dans le cadre d'une filière gériatrique "patient chuteur"
Les chutes du sujet âgé sont une préoccupation majeure de santé publique en France. Elles concernent un grand nombre de personnes âgées. Elles ont des causes et conséquences multiples tant sur le plan traumatique que psychologique et peuvent conduire à de nombreuses hospitalisations et institutionnalisations. La chute et ses conséquences ne sont que la partie émergente d'un syndrome gériatrique complexe que l'on pourrait qualifier de « syndrome dysorthostatique transitoire». Les chutes intéressent en premier lieu le médecin généraliste dans son exercice en ville comme lors de ses interventions en EHPAD. La notion d'une chute quel que soit le milieu de vie de la personne âgée et quel que soit ses conséquences immédiates, doit être prise en charge. L'objectif principal de cette étude est d'étudier la prise en charge de tous les chuteurs au cours d'une année dans l'hôpital local de Senones. Entre le 1er janvier 2012 et le 31 décembre 2012 au SSR et à l'EHPAD de Senones 96 chutes ont été recensées. La chute était évaluée initialement et à 6 mois. La majorité des chuteurs n'a pas bénéficié d'une prise en charge spécifique de la chute. La grande majorité des chutes survenues au sein de ces établissements pouvait apparaitre comme bénignes initialement mais le pronostic à moyen terme est beaucoup plus péjoratif, le pourcentage de décès à 6 mois chez les chuteurs s'élevant à 20%. Les personnes âgées, malgré l'avènement de nouvelles données, l'accumulation de connaissances toujours plus fines et accessibles, ainsi que l'amélioration constante des techniques médicales et paramédicales, chutent toujours autant. Ce travail propose une piste de réflexion pouvant améliorer la prise en charge des chuteurs au sein d'une filière gériatrique avec la création d'une unité chute en SSR.
Fichier principal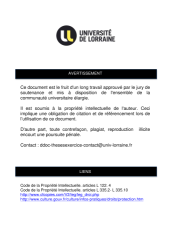 BUMED_T_2017_GOUDOT_GUILLAUME.pdf (1.3 Mo)
Télécharger le fichier
Origin : Files produced by the author(s)