Biotherapy in rheumatology : what are the patients' perceptions of difficulties?
Biothérapie en rhumatologie : quelles sont les difficultés perçues par les patients ?
Introduction : Les biothérapies sont en plein essor et largement prescrites en rhumatologie dans le cadre des rhumatismes inflammatoires chroniques. Mais ces traitements ne sont pas dénués d'effets indésirables, et les patients doivent acquérir des compétences d'auto soins et d'adaptation pour gérer leur maladie et leur traitement. L'objectif de cette étude est d'identifier les difficultés perçues par les patients traités par biothérapie pour une indication rhumatologique, et de définir la place, selon les patients, des acteurs de soins primaires, et notamment des médecins généralistes, dans leur suivi et leur accompagnement. Matériel et methods : Il s'agit d'une étude qualitative selon la méthode phénoménologique interprétative, réalisée par entretiens semi-dirigés auprès de treize patients, sélectionnés selon un échantillonnage ciblé et homogène. Les critères d'inclusion étaient des patients atteints de RIC et traités par biothérapie. Une analyse thématique a été réalisée par les auteurs. Résultats : Les patients décrivent des difficultés à vivre dans un corps malade, fragilisé, diminué et en destruction. Dans un sentiment de marginalisation sociale, leur vie est centrée sur la maladie, compliquant les processus d'appropriation de leur pathologie chronique. La biothérapie est la source d'une ambivalence cognitive entre « une efficacité puissante » et l'angoisse des effets indésirables. Dans ce contexte, les patients décrivent un manque d'accompagnement et de soutien de la part des professionnels de santé, marqué par un manque d'explication médicale, et une impression de banalisation de leur pathologie devant un manque d'écoute. Certains patients n'accordent pas leur confiance à la médecine générale et ne perçoivent pas sa place tant pour le diagnostic que pour le suivi de leur pathologie. Conclusion : Cette étude montre que les patients atteints de RIC et traités par biothérapie nécessitent un accompagnement et un soutien mieux adapté à leurs difficultés pour les aider à s'approprier et à gérer leur maladie, leur biothérapie, et leurs conséquences. La promotion d'une education thérapeutique intégrée aux soins permettrait de réaffirmer la place du médecin généraliste dans l'accompagnement de ces patients.
Fichier principal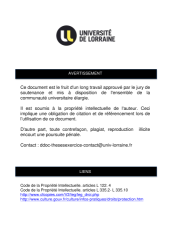 BUMED_T_2017_RONDEAU_DESEYNE_LUCIE.pdf (1.31 Mo)
Télécharger le fichier
Origin : Files produced by the author(s)