Keeping workers in employment in Lorraine: What are the impacts of the occupational health's reform on intercompany services in regard to occupational health physicians' practices and partnership dynamics with external parties?
Maintien dans l'emploi en Lorraine : quels impacts de la reforme de la sante au travail pour les services interentreprises en termes de pratiques des médecins du travail et de dynamique partenariale avec les acteurs extérieurs à l'entreprise ?
La dernière réforme de la médecine du travail attribue la mission aux services de santé au travail de contribuer au maintien dans l'emploi et d'éviter la désinsertion professionnelle. Elle prévoit également la signature d'un contrat pluriannuel d'objectifs et de moyens (CPOM) afin d'assurer une meilleure synergie entre acteurs complémentaires. En Lorraine, 6 services de santé au travail interentreprises sur 7 ont signé leur CPOM comprenant une action Prévention de la Désinsertion Professionnelle (Action PDP). Notre enquête s'est essentiellement appuyée sur des entretiens semi-directifs auprès des différents acteurs : médecins du travail référents de l'Action PDP, des acteurs externes du maintien dans l'emploi, cosignataires CPOM : CARSAT, DIRECCTE. Des thématiques communes entre acteurs ont été abordées en vue d'être comparées. Les entretiens ont été complétés par l'étude de documents et des observations participantes dans divers milieux. Ce travail décrit le processus de mise en oeuvre de la réforme concernant l'Action PDP dans les services de santé au travail lorrains. Les interactions et les articulations entre acteurs ont également été analysées grâce à une trame de questionnement commune. Cette étude met en évidence des avancées en matière de dynamique partenariale entre les médecins du travail et les acteurs externes du maintien dans l'emploi ainsi que des pratiques innovantes au sein des équipes pluridisciplinaires de certains services. Les principaux facteurs favorisants du maintien dans l'emploi mis en exergue sont l'anticipation, la précocité de prise en charge, la motivation du salarié et de l'employeur et leur adhésion à la démarche ainsi que la qualité d'un réseau de partenaires extérieurs. Des améliorations restent à envisager dans la coopération entre cosignataires des CPOM.
Fichier principal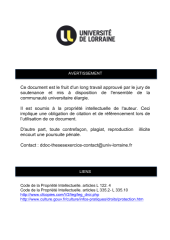 BUMED_T_2016_TURCK_AURELINE.pdf (2.81 Mo)
Télécharger le fichier
Origin : Files produced by the author(s)