Gestion des exigences client du projet AIXMDB
THALES SERVICES SAS, service society of THALES group, do projects for other division of the THALES group or for external customers. I?m involved in the functional analysis of a project of development of a software that manage critical and complex aeronautical data in the format AIXM5.1 defined by EUROCONTROL, which the final customer is THALES AIR SYSTEM - AIR TRAFIC MANAGEMENT. My work in this project is to analyse the customer requirements (more than 1.000), to organise and represent them on MagicDraw in SysML, in order to understand and define the requirements more clearly, and thus the tasks to be made. Then, it will be necessary to establish matrix of traceability in order to verify the requirements, while creating in parallel a file of tests, which will be of use to the verification and the validation of the application, and thus to insure the customer satisfaction.
THALES SERVICES SAS, la société de service du groupe THALES, est prestataire pour des projets internes au groupe mais également pour des clients extérieurs. J'interviens dans la partie fonctionnelle d'un projet de développement d'une application de gestion des données aéronautiques critiques et complexes au format AIXM5.1, défini par EUROCONTROL, dont le client est THALES AIR SYSTEM - AIR TRAFIC MANAGEMENT. Le travail qui m'est demandé est d'étudier les exigences du client (plus de 1000), de les organiser et les représenter sous MagicDraw en SysML, afin de comprendre et de définir plus clairement le réel besoin du client et donc le travail à réaliser. Il faudra ensuite établir des matrices de traçabilité afin de vérifier que les exigences aient été prises en compte ; tout en rédigeant en parallèle un cahier de tests, qui servira à la vérification et la validation de l'application, pour assurer la couverture du besoin client, et obtenir ainsi sa satisfaction.
Fichier principal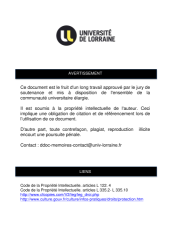 BUS_M_2012_SANZOVO_SIMON.pdf (2.56 Mo)
Télécharger le fichier
Origin : Files produced by the author(s)