Suivi de la réalisation d'une nouvelle installation : Quenching Tower
My mission within the Company LME (Flattened European Traders) to Trith-Saint-Léger (59) concerned the follow-up of the project of Quenching Tower. The purpose of this project is to be able to supply the former expensive installation by a new quality installation and which works well. The objective of my mission was to make the relation enter the engineering consulting firm which will have in load the installation of Quenching Tower and the service (department) of the maintenance which will have in load (responsibility) the preservation of the system in functioning. At first, I was able to analyze the existing installation. During this analysis, I was able to observe what was necessary for the smooth running of the new installation: study of the various phases of the oven, the temperatures in entry and in exit of the former (ancient) installation as well as a grip (taking) of measure of the flow of inhalation made by an outside company Secondly, I was able to follow the whole project, phase of the plans until the final realization. I was able to bring my observations, my improvements, my realizations in numerous domains such as the civil engineering, the hydraulics, the electricity, the mechanics which I then displayed (exposed), throughout the project, to the various teams of maintenance. My approach (initiative), once the installation realized by the engineering consulting firm, will allow the company LME to optimize the functioning of Quenching Tower without meeting of major problems.
Ma mission au sein de l'Entreprise LME (Laminés Marchands Européens) à Trith-Saint-Léger (59) a porté sur le suivi du projet de la Quenching Tower. Le but de ce projet est de pouvoir suppléer l'ancienne installation coûteuse par une nouvelle installation de qualité et qui fonctionne bien. L'objectif de ma mission était de faire la relation entre le bureau d'études qui aura en charge l'installation de la Quenching Tower et le service de la maintenance qui aura en charge le maintien du système en fonctionnement. Dans un premier temps, j'ai pu analyser l'installation existante. Durant cette analyse, j'ai pu observer ce qui était nécessaire pour le bon fonctionnement de la nouvelle installation : étude des différentes phases du four, températures en entrée et en sortie de l'ancienne installation ainsi qu'une prise de mesure du débit d'aspiration faite par une société extérieure. Dans un second temps, j'ai pu suivre l'ensemble du projet, de la phase des plans jusqu'à la réalisation finale. J'ai pu apporter mes observations, mes améliorations, mes réalisations dans de nombreux domaines tels que le génie civil, l'hydraulique, l'électricité, la mécanique ... que j'ai ensuite exposé, tout au long du projet, aux différentes équipes de maintenance. Ma démarche, une fois l'installation réalisée par le bureau d'études, permettra à l'entreprise LME d'optimiser le fonctionnement de la Quenching Tower sans rencontrer de problèmes majeurs.
Fichier principal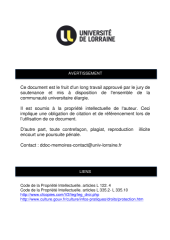 BUS_M_2012_FIORESE_ANTHONY.pdf (7.13 Mo)
Télécharger le fichier
Origin : Files produced by the author(s)